Flint River Ranch Customer Testimonials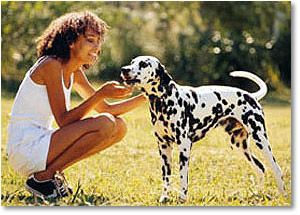 We're proud to share a sampling of the many testimonials received from loyal and satisfied Flint River Ranch customers, breeders and veterinarians.
We'd love to hear from you as well — please don't hesitate to
send your reviews, comments and feedback to us
.
"I didn't realize just how much of a difference Flint River Ranch has made in my dogs' lives until I ran out of my supply without having reordered more, and had to make an emergency switch to an alternative 'premium' brand. I decided to give the competition a one-month trial to see if I could tell a difference. Could I ever!

At the end of the month I noticed less energy and 'pep' in my pups, less shine to my boys' coats, more allergies and spots on their skin, and many, many more loose and runny (and smelly!) stools to clean up in the backyard. All this from a wellness pet food brand that touted itself as holistic and super healthy — and one that cost more than Flint River Ranch!

Needless to say, I have my boys back on Flint River Ranch now and have signed up for your automatic shipment plan. Never again do I plan on running out of Flint River pet food for my dogs. Thank you for a wonderful product and fantastic service."
Jennifer Dalles - North Carolina
"I just want to thank you for offering such a superior product. I've only recently become aware of how bad commercial pet food really is. I was fortunate to come across your website. My cat Domino has always been a picky eater. After doing the taste test, I was sold, as was Domino! I ordered a sample for my dad and he was sold as well. He immediately went online to order a bag.

"I think that most people are not aware of the harmful ingredients in commercial brands. Not to mention all the fillers that offer no nutritional benefits. I put my trust in these commercial brands and feel so foolish for doing so. More people need to become aware and I will do my part in spreading the word about Flint River Ranch. Thank you again."
Wendy Votto - New York City

"Wow!!!! Incredible service. I do have to say your website is what sold me. I browsed over 20+ other Flint River Ranch dealers as well as other brands. I was not only looking for pricing, but also a professional and customer-oriented dealer with information that is above and beyond that of just the dog food being sold.

"I loved the articles and the individual breed details you list. The website is clean and easy to navigate. I figured for someone to put so much time and information on a site has my business. My decision was made. As a business owner myself, I know the meaning and importance of not only product but also customer service.

"I love the auto-delivery – one less thing I have to worry about. Thanks for the service and hopefully a long-lived business relationship."
Michelle Chapin - Washington
"Two weeks ago I received my first of what will be many shipments of your fine Flint River Ranch product. I, like many of the other animal lovers in the world, probably got mad at reading your information of what is going into other dog food, and I can assure you I got very mad! I had no idea that corn cannot be digested in a dog's intestine.

"I will say this right now that I doubted what you said in your report, so I looked farther and found that all you said was the truth, I was buying expensive dog food and paying for chicken heads and feathers and covering my back yard in corn; this might sound funny, but it's not once you also find out that you were feeding your dog poison that produces cancer.

"Thank you for teaching me, thank you for your product, and thank you for the good you're doing for the loved animals in this country."
Richard Ostheimer - Indiana
"I ordered samples of your Flint River Ranch dog food and was impressed by the timeliness of their arrival. Reading your claims about the introduction of your food made me skeptical, but my dog loved it. I gave her a few pieces as "treats" to introduce them. Then my husband put half the bag in the corner of her dog dish alongside her regular food.

"We were both amazed and impressed by our dog's reaction to this. She started to eat, but only your food. When she came across her regular food, she actually spit it out on the floor! We thought this was hilarious and it definitely backed up your taste claims!"
Lori Bartels-Tobin
"We have an 8-year-old Australian Shepherd with a sensitive stomach and an indifferent attitude towards her dry dog food. After trying the Flint River Ranch Trout and Potato dog food and the Lamb and Rice dog food formulas, not only is she cleaning her bowl out but she's actually sniffing in the Pantry for more!

"And after several weeks, her coat is the healthiest and shiniest it has ever been. But the best part for us is that she has a lot less gas and noises than she's ever had. We also tried the Pet Force Stain Remover for the episodes on our carpets. Pet Force has worked the best so far of any of the products we have tried and we've tried a lot of them. Pet Force is also excellent for removing other stains as well."
Jay J. - Denver, Colorado
"Just received our delivery of Flint River kibble. Wow! Our 2 cattle dogs finish it all, wanting more. Big change from turning their noses up at Science Diet! Addie, our too slim girl, has chowed it down! Can I use any more exclamation points! We are sold on Flint River Ranch!"
Lynn - Milwaukee, WI
"I LOVE Flint River — It has SAVED my dog's life! She had severe allergies and our vet thought she wouldn't live over 3 years; now with a FRR diet has been given a complete good bill of health!

"We are THRILLED with the positive effects that Flint River Ranch has had on our German Shepherd's eyes (less leaking), ears (needed to clean them weekly before, now we clean less than once every 2 months), skin (pink again, not black), coat (soft not brittle), smell (no more doggy smell), and energy (back to normal).

Not to mention her blood work came back normal for the first time 2 months after switching from Science Diet to FRR. She also has NEVER had fleas (infestation) since the switch. Needless to say, we will never use a commercial brand again."
Damon S. - Avalon,
"YOU WERE RIGHT!

"Received your free sample - did the taste test. My cat Sam is one of those 'finicky eaters' you refer to in your brochure, so I was skeptical. Well, he GOBBLED it up - in fact, while he was eating, one piece fell into the dish with his "normal" dry food, and he picked up just the one FRR piece that fell, being careful not to get any of that OTHER food (that I thought was his favorite) in his mouth! Then, he proceeded to LICK THE BOWL! I guess you can't get a more ringing endorsement than that! I've just submitted the first of what I assume will be many future orders!

"Thank you again for 'caring enough to give the very best.'"
Donna M.
"This is by far the best product I've found on the market. After reading the information regarding Flint River Products, I have to admit I was a bit skeptical. I did some research and was horrified to find that Iams and Eukanuba have a horrific dog/cat testing lab where animals are held in steel cages with no interaction for the purpose of product testing. I also found that the ingredients were substandard, as were most of the dog food products on the market.

"I am pleased to say that my dogs love the Senior Kibble Plus. I have been trying to trim down my dog's weight and had been having very little luck. In the two weeks that my canine companions have been on the Flint River Kibble, they've lost weight, their coats are glossier, and they have new energy and smoother joint movement!

"Thank you for caring enough to put out a superior product for all of us who want the best for our four-legged friends!"
Joanie Kawashima - San Jose, CA
"Our two German Wirehaired Pointers absolutely love your Flint River Ranch pet food products!! Their coats just glisten, their teeth are pearly white, and they have lots of energy. They are NEVER sick!!"
MJW - Gaylord, MI
"Your cat food is fabulous! The day after I received the Flint River Ranch cat food sample, I ordered the regular cat and lite cat food formula for my 3 cats. My 2 year old Bengal is the finickiest eater. He walks away from his dry food unless it's mixed with canned food — which we use only as a treat.

"When I put down a small handful of the sample, he immediately started eating. I am amazed. He never eats a food on first smell. I look forward to receiving our first order and watching for improvements in our cats. Thank you for caring."
Capt. Caroline Konczey, USN - San Diego, CA
"I have 3 dogs who have been on Science Diet for years and after giving them the taste test with your product, I knew I had a new dog food. Typically my smaller dogs would take a few pieces of the dry Science Diet in their mouth and wander into the dining room to eat it. Back and forth, back and forth they'd go until the bowl was empty. Now, with your product they do not leave their bowl until its empty. I was very impressed. I also have become an avid label reader and am disgusted at some of the ingredients the more name brand, expensive brands use, plus all those horrible preservatives. Thank you for making a terrific product."
Sherrie Wilson - Grand Junction, Colorado
"I've ordered from you twice now and I just wanted you to know how impressed I am. I've ordered both times on Sunday and have received the Flint River Ranch food by Tuesday. You can't get much better than that. I also appreciate the e-mails letting me know what's going on with my orders. Thanks again."
R.D. Hipps - Georgia

"I wanted to take a minute to let you know that we feed our 2 labs nothing but your kibble. They eat a consistent 200 lbs. every 3 months, and have now done so for the last 4 years! Our UPS guy just leaves it inside our gate where we can pick it up later. It comes in 5 boxes, a size that the UPS guy says is not too much to handle."

"We get comments on a regular basis about how good our 8 year old dogs look and how healthy they are. We have upgraded to the kibble with Glucosamine and Chondroitin (FRR Senior PLUS), and it does seem to give them better joint control."

"Keep up the good work!"
"I have two collies and have had immense vet bills with the older one with all kinds of digestive problems. All of this turned around when I found Flint River Ranch. Now my vet bills consist merely of annual check ups. The Flint switch has saved me a bundle and saved my dog endless days of suffering with constant diarrhea and other digestive disorders.

"Thanks Flint River Ranch."
P.B. - Illinois
"My Fritz has brighter eyes and more energy since I have put him on Flint River Ranch and stopped using Science Diet with its chemical preservatives. Fritz says 'Woof, Woof' to Flint River Ranch."
L.M. Hughes - NY
"I just have to tell you my story. My little poodle Buffy is on strike. I have been feeding her and her sister Shadow (a lab) the Dry Water formula for approximately 2 weeks for breakfast. Since I didn't get on the automatic shipment plan, I ran out. I have had to go back to their previous morning diet until my shipment arrives. Buffy will not touch her breakfast now. She is waiting until her evening meal, which is the Kibble, before she eats. These dogs devour both the Dry Water formula and the Kibble. I have never seen them so enthusiastic about their meals!

"Not only do they love this food, but they do not ask for treats near as much during the day as they did while they were on their previous food. This tells me that it is more nutritionally satisfying to them. Needless to say, 'mom' is going to enroll in the automatic shipment plan.

"Thanks for such great products!"
Tina, Shadow and Buffy Thomas - Magnolia, Texas
"I must admit you are not only concerned about the healthy pet but also the parents of those pets. As you know people like myself often consider their pets as their own children as I do. It truly is nice to find a company that cares about all of the family. Again, thank you for having such a great product."
Pamela Jimenez
"We did your test with the sample you sent and our Border Collie of course chose your dog food. Amazingly though, she kept pointing at her dish for the rest of the day, and if we looked over at her, she immediately went over to lick out the bowl. I think she was trying to make sure that we knew that this new stuff was preferred. Now that we have a full bag of your food, she finishes every meal by going into the middle of our living room and squirming across the room on her back, wagging her tail. Clearly, she doesn't just like your Flint River dog food more, she likes it MUCH more."
Ron Miller
"I wanted to thank everyone at Flint River Ranch for making such a wonderful dog food. My Australian Shepherd, Tess, has lots of allergies due to poor breeding (among other health problems), and we have tried so many different dog foods to help her but none of them worked. She has been fed Iams, ProPlan, Science Diet (Sensitive Stomach Formula), Nutro, and even Science Diet Canine I/D, a prescription diet from the vet's office — all of these so called "premium" dog foods. Despite all these attempts, Tess was constantly scratching and chewing on herself and her eyes were so red they looked bloodshot. Nothing we tried worked.

When we received the FRR sample, I gave Tess a few pieces as treats and she loved it! That night, I mixed the remainder of the sample in with her food, and I couldn't believe what happened. Tess used her nose to find every single piece of FRR and ate it, leaving her other food in the bowl. She looked up at me to see if I had any more FRR. I showed her the empty bag and she got up and walked away.

Now that she's eating only FRR, I actually had to put a towel down in front of Tess' bowl because she drools while sitting in front of her food bowl waiting for the release command so she can get up and eat! Tess has been eating FRR exclusively for almost 6 months now (since January).

The improvements she has made are astounding. Tess no longer scratches due to allergies. I haven't seen her chew on herself in months, and I get to see her beautiful brown eyes now that they're not constantly red with irritation. Tess has lost weight now and built more muscle since she isn't eating all the fillers that other dog foods contain. Tess has never looked or (as far as I can tell) felt better than she does right now, and it's all thanks to Flint River Ranch. I will never feed any other food to any present or future pets. FRR is the greatest."
Deidre Pflugh - Maryland
"I just wanted to share with you that after receiving my second forty pound shipment of FRR food, My UPS driver gave me a sample of the food he feeds his dog, stating that it is "the best". I repeated the taste test that caused me to switch to FRR. in the first place, expecting my dog Travis to eat the Back to Basics brand just because it was different. Travis smelled the FRR food then the other, tasted the FRR then the other, and to my surprise he ate the FRR and walked away from the other dish completely.

"I am double convinced that Travis is eating the proper food."
Ralph Porter Jr.
"I recently switched my dogs to your Flint River Ranch Lamb and Rice dog food and I just had to write and tell you what a difference it has made for all of them.

My Springer Spaniel has a sensitive stomach and colitis problems. I was worried about making a switch in his food but am pleased to say he has had no problems at all with this food! Any other time I've attempted to feed anything other than his old food it has sent him into bouts of raging colitis. Not with Flint River! Before he sniffed his food and approached it with an attitude of "if I have to eat it I will", now his face is in his bowl before I even put it on the floor and he's pacing and barking with excitement while I fill the bowl!"
Read more from this customer
Melissa B. - Monroeville, PA
"Thanks for the info about what to feed Charley. He has been on FRR for about a month now and loves it. His back legs seem to be less bowed and his coat is silkier. There is only one problem. He now wakes us up early every day so he can hurry out and then eat his food. I tried giving him less, as suggested, but he dragged his bowl around the kitchen for more. I am convinced. Thanks again."
Bobbi Shindelman
"I tried your taste test as you recommended. My 15-year-old Yorkie-poo gobbled it up! Now she literally runs to her food bowl when I serve your Puppy and Adult Food. She never got this excited about kibble, even when she was a puppy. I am so happy to have found a natural pet food with human grade ingredients. Thank you."
M. Kiger - Pennsylvania
"I just had to let you know that I did the taste test and you won! My dogs loved it, paws down! We aren't talking about three normal dogs. We are talking about three dogs all with separate special needs. Flint River Ranch simplified my life because of the high quality ingredients, all my little guys can eat the same food! It saves me time and money, plus they love it!"
Lisa Pajkos - Indiana
"As a result of the taste test, using the sample you sent, I am totally convinced that you have a better product! As you suggested, I filled one bowl with your product and another with my Siberian Huskies' (Thor and Nikita) current dry food. They sniffed both bowls and proceeded to consume the Flint River Ranch food. Then they went to the other bowl, each eating a nugget or two, and walked away. Ha - ha! :) One taste is worth a thousand barks - or in the case of huskys, a thousand woo-woos."
James W. Hand
"Until I found Flint River Ranch, my mixed breed dog was constantly scratching and tearing at her fur and paws. I've spent hundreds of dollars at the vet trying to find something that will ease her discomfort. It never occurred to me that she might be reacting to the chemicals in her food. I used to feed her Pedigree. Now that I have switched to Flint River Ranch, there is no scratching at all. It took a while but the results were well worth it.

"Thanks ever so much for your free sample. And thanks to Flint River Ranch for the best food on the market."
J.M. - Illinois
Testimonials for Flint River Ranch from Veterinarians
I have raised several litters of puppies on most of the well-known premium brands of puppy food and this summer raised my first Flint River litter. I purposefully did not supplement with other puppy food or use supplements other than yogurt and vitamin C, to determine for myself if the regular formula was adequate for weaning and growing puppies. The results — the food moistens quite readily into a soft gruel for starting the puppies on solid food. Other products take much longer soaking to completely reduce the food to a gruel consistency. There were no problems with soft stools as long as the puppies did not overeat.
I have now raised three of the puppies to the age of six months with nicely controlled growth rates, beautiful coat and condition, and to this point, excellent overall health and soundness. I cannot claim this for the "premium puppy foods" I have used in the past.
I also have a client who has recently weaned a litter of Rottweilers on Flint River and is very pleased with her results, as well as numerous other clients raising healthy, sound, structured puppies on regular formula Flint River Ranch Dog Food.
My question now would be, "Would it ever be necessary to have a separate puppy formula if the quality of the food was high enough to provide high quality, highly digestible ingredients that would render the necessary nutrients needed for proper (controlled) growth and development?" It appears at this time from my observations, that the answer is "No", and if so, would not be the first pet food fallacy I have discovered.
I have been breeding and showing English Setters for 15 years and have been practicing veterinary medicine for nearly that long, and felt you would appreciate hearing of my personal results with Flint River Ranch, as well as those of some of my clients. I feel very fortunate to have such an excellent line of pet foods available for myself and my clients, as I firmly believe it is the first and most important part of a preventive or restorative health program."
Debra J. Mack, DVM, A Natural Choice Veterinary Clinic
"I have two Maine Coon mix cats who were born at the clinic in 1979 and who have lived there since then. They are a brother and sister team and have the run of the clinic. They both inherited the ability to form excessive crystals in their urine. The male would easily become blocked except when fed Prescription Diet C/D. For this reason they were both fed C/D, which was designed to prevent the formation of crystals by limiting the minerals from which the crystals form. This diet saved his life and allowed him to live a normal life for the 14 years that he and his sister were on it.
"During this time I was very concerned about the lack of wholeness and quality in the CD. The only animal protein in the CD came from poultry by-product meal, glandular meat and poultry digest which is garbage and probably useless as a wholesome food. Most must be detoxified by the liver and then eliminated from the body because it cannot be used by the body for nourishment. If you go fishing and clean the fish you catch, what you throw away are the by-products. Would you eat this stuff? If not, then don't feed it to your best friends. The dry CD also contains as preservatives BHA and Ethoxyquin. Even the FDA won't allow the use of this stuff in our food. We tried dozens of different foods that appeared to be good from the list of ingredients on their labels. In every case the boy would begin to block within two days after having as little as a teaspoon of the test food mixed with his CD. While on the CD his sister developed a severe case of
Miliary Dermatitis
with raw scabs over her body. She could only be kept under control with corticosteroids.
"In May 1994 I received a phone call from my friend John Limehouse who shares my concern over the lack of wholesome pet foods. John told me what Jim Flint was doing and thought I would be interested in the food he was making. The next day Jim Flint called me and since that day I have sold an awful lot of the Flint River Ranch food. The clinic cats were put on the food and taken off CD. The boy has gone over a year without a hint of the urinary crystal problem and his sister's skin is without a blemish.
"Both cats have been fed only the Flint River Ranch cat food with the exception of the girl who has on occasion been given a teaspoon of different canned food as 'treats.' These treats were from specially chosen canned foods that had a very good looking list of ingredients on their label. These included some of the lams products that looked very good. In every case she started breaking out again within two days. I can only conclude that someone is lying about what is contained in their canned food. I suspect that the culprit is liver in some form because it would contain all of the toxins that the animal had accumulated during its lifetime and had been stored in its liver when it was slaughtered for food.
"I specialize in treating the so called 'chronic incurable diseases' of Western medicine and many of my patients are considered to be dying when they come to me. One of the first changes in their life style is to have all of my patients eating a wholesome, human quality food. In order for a patient to be cured of these 'incurable' diseases they must become healthy. Without a good wholesome diet the rest of the therapy cannot be successful. I cannot recommend any other food other than the Flint River Ranch food."
Walt McCall, DVM, Holistic Veterinary Medicine
Read More Flint River Ranch Testimonials
...
Flint River Ranch Reviews and Ratings from Other Sites
If you're looking for more reasons why you should make the switch to Flint River Ranch, we'd like to recommend:
Better Ingredients. Better Pet Food. Flint River Ranch.