Flint River Ranch Customer Testimonials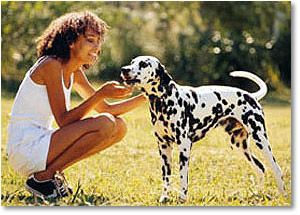 We're proud to share a sampling of the many testimonials and experiences received from loyal and satisfied Flint River Ranch customers, breeders, and veterinarians.
We'd love to hear from you as well — please don't hesitate to
send your Flint River Ranch reviews, comments and feedback to us
.
---
"I recently switched my dogs to your Flint River Ranch Lamb and Rice dog food and I just had to write and tell you what a difference it has made for all of them.

My Springer Spaniel has a sensitive stomach and colitis problems. I was worried about making a switch in his food but am pleased to say he has had no problems at all with this food! Any other time I've attempted to feed anything other than his old food it has sent him into bouts of raging colitis. Not with Flint River! Before he sniffed his food and approached it with an attitude of "if I have to eat it I will", now his face is in his bowl before I even put it on the floor and he's pacing and barking with excitement while I fill the bowl!

I know this is behavioral, but prior to switching he had major issues with food aggression and I could not touch his bowl without him having issue with me doing so, now he waits for me to touch it in the hopes I might be putting more food in the bowl and wags his tail the whole time! He likes the food so much it's helped him overcome some of his food territorial aggression. I am thinking because it's so nutrient dense he no longer feels he isn't getting enough and worried he has to guard it. Who knew a simple food change could make that type of difference.

My German Shorthaired Pointer was having problems with high pH levels in her urine and crystals. My vet recommended a switch in her diet. The Flint River Ranch Lamb formula has lowered her pH levels, the crystals are gone and her coat has never looked better! She also had problems eating dry kibble, she ate too fast and would choke unless it was watered down good. Being a breed with a propensity to develop bloat, adding water was not a good thing for her but was necessary to prevent choking. Due to the irregular shape of the Flint River Ranch Lamb she now has dry food, no water, is taking her time, chewing her food and enjoying her meals at a slower pace. I am beyond delighted!

On to my 9 year old Cocker Spaniel. He is an epileptic, has a heart condition, arthritis in his back legs, and was always itchy. After only 3 weeks on Flint River Ranch Lamb formula he is running around like a puppy again, has not had a seizure, and is not as itchy as he has always been! I'm feeding him less than I was of his old food yet he does not act like he's starving in between meals. I'm hopeful he may drop some weight now that he's more active!

Not one of the dogs experienced any of the common issues with switching food such as diarrhea or upset stomach, and all of them immediately picked through the food to find the Flint River Ranch over their old food!

My cat has sensitive stomach issues and even she was able to make the switch to Flint River Ranch Adult Lite formula with no problems! She loves it!

Thank you so much for making such a difference in the lives of my pets. I am an extremely picky pet owner and try to feed my dogs only the best therefore I am highly skeptical of new foods. Flint River Ranch has shown me that it is worth every penny to feed to all my pets. I only wish you made bird food so I could switch my parrots to Flint River!"
Melissa B. - Monroeville, Pennsylvania
Read More Flint River Ranch Testimonials
and
Page 2
...
Flint River Ranch Reviews and Ratings from Other Sites
If you're looking for more reasons why you should make the switch to Flint River Ranch, we'd like to recommend: