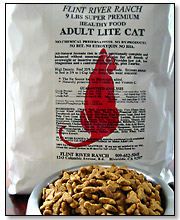 Flint River Ranch Lite Cat Food Formula
LITE CAT FOOD UPDATE:
The Flint River Ranch Lite Cat Food formula has been replaced by Flint River Ranch's new
Grain-Free Cat Food
formula and is no longer available for sale. The Grain-Free formula is a concentrated, nutrient-dense formula free of grains that can be used as a lite cat food formula — cat owners will need to ensure they feed less of the no-grain formula than other foods in order for their cats to maintain or acheive their ideal weight.
---
Flint River Ranch's Adult & Senior Lite Cat Food for adult cats is a twice oven-baked, all-natural,
weight control recipe
scientifically formulated for
overweight cats, older or less active cats, and cat breeds prone to excessive weight gain
(
obesity
). The reduced fat, reduced calorie weight management cat food formula features the same ingredients as the original Cat and Kitten food formula, but it has
1/3 less fat and 1/3 fewer calories
.
The Flint River Adult Cat Lite formula's protein source and amino acids provided by the high-quality chicken meal and lamb meal are the basic building blocks of your cat's muscle, skin, coat, bone, blood, and immune system. The high quality chicken meal provides Taurine, an essential amino acid for cats, in much higher levels than poultry by-products, which are typically found in most other cat foods. Taurine is an important element for eye, heart, nervous and reproductive system health.
The lite cat food recipe also uses beet pulp as its fiber source, which does a far better job than other fiber sources moving nutrients through your cat's digestive system. The pulp gently massages the cat's intestinal walls, enabling your pet to absorb nutrients and eliminate waste more easily.
Additionally, the low ash and magnesium content and pH-controlling acidifiers in the lite cat food formula help promote optimal pH balance, key in the prevention and management of urinary tract infections and F.U.S. (Feline Urinary Syndrome).


The Flint River Ranch Lite Cat Food formula for adult and senior cats is a reduced fat, reduced calorie weight control recipe that has been
scientifically developed to promote the health and vitality for cats of all breeds, sizes and ages
, including the following breeds:
American Shorthair, Persian, Exotic, Siamese, Abyssinian, Birman, Maine Coon, Oriental, Ragdoll, Tonkinese, Russian Blue, American Bobtail, American Curl, American Wirehair, Balinese, Bengal, Bombay, British Shorthair, Burmese, Chartreux, Colorpoint Shorthair, Cornish Rex, Devon Rex, Egyptian Mau, European Burmese, Exotic, Havana Brown, Himalayan, Japanese Bobtail, Javanese, Korat, LaPerm, Manx, Ocicat, RagaMuffin, Scottish Fold, Selkirk Rex, Siberian, Singapura, Somali, Sphynx, Tonkinese, Turkish Angora, Turkish Van, mixed breeds, and many more
The Flint River Ranch Senior and Adult Lite Cat Food formula contains low ash and magnesium content as well as pH-controlling acidifiers (DL-Methionine) needed for maintaining optimal pH to help prevent urinary tract disorders such as
F.U.S.
(Feline Urinary Syndrome) and
FLUTD
(Feline Lower Urinary Tract Disease).

Chicken Meal, Ground Yellow Corn, Corn Gluten Meal, Ground Whole Wheat, Lamb Meal, Chicken Fat (preserved with mixed
tocopherols
- healthy antioxidants - and ascorbic acid), Fish Meal, dried brewer's yeast,
dried beet pulp
(sugar removed), corn germ meal, salt, dehydrated cheese, lecithin, D-activated animal sterol (source of Vitamin D-3), Vitamin A acetate, Vitamin B12, Vitamin E supplement, niacin supplement, riboflavin, calcium pantothenate, choline chloride, pyridoxine hydrochloride, folic acid, biotin, thiamine mononitrate, inositol, DL-methionine (a pH-controlling acidifier), manganese, dehydrated kelp, and polysasaccharide complexes of zinc, iron, copper, cobalt, taurine, calcium iodate, sodium selenite, dried whey, and yucca schidigera extract (for odor control).

Because Flint River Ranch premium cat food formulas are nutrient-dense, you should
feed 20%-25% less than regular cat foods
. Each serving delivers
maximum nutrition without unnecessary fillers
, so you'll also notice a lower stool volume and less clean-up.
It's best to introduce Flint River Ranch Super Premium foods by mixing with your cat's current food and increasing the amount of Flint River Ranch over several days. It will take time for your cat to adjust to the rich, easy to digest, all natural quality. A sudden change in any food source may be a shock to your cat's digestive system. You may notice loose stool. If so, reduce the amount being fed until your cat adjusts.
Feed your cat once or twice a day unless the breed is prone to bloating or
excessive weight gain
(
obesity
), in which case we recommend feeding three smaller meals throughout the day. Food requirements vary depending on climate, breed of cat and exercise activity. Feed an amount that will maintain your cat's weight, and make sure to always have fresh water available.

Crude Protein (Min.)
Crude Fat (Min.)
Crude Fiber (Max.)
Carbohydrates (Avg.)
Moisture (Max.)
Crude Ash (Max.)
Taurine (Min.)
Caloric Density (KCAL/Cup)
25.0%
12.0%
4.5%
42.9%
10.0%
5.6%
0.10%
321


Feed Kittens about 3 times a day up to 6 months
Kittens older than 6 months, feed 2 times per day.
Adult Cats (1 year and older) can be fed 1 or 2 times daily.
Always have fresh water available
The amount your cat can eat in 15-20 minutes is the amount you should serve per feeding; free-feeding is not recommended.