Flint River Ranch Dog Food Coupons, Specials, and Discounts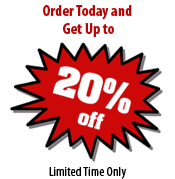 At
A+ Flint River Ranch
we're committed to making sure our customers receive the
absolute lowest prices
on Flint River Ranch pet foods and products. In addition to our recently reduced prices (anywhere you see a slashed price followed by a
sale price
in red), we also have on-going specials as well as seasonal discounts that we'll be listing here, many of which are automatic discounts — no Flint River Ranch dog food coupon codes needed!
Below is a listing of our current and recent Flint River Ranch pet food sales and specials (last updated in February 2018).
Flint River Ranch Coupons and Discounts for New Customers
We currently have two discounts available to new Flint River Ranch customers:
10% Off New Customer Discount.
All customers will receive
10% Off
your
first
Flint River Ranch order with A+ FRR.
The best part of our new customer discount is that unlike many Flint River Ranch distributors, any new customer to A+ Flint River Ranch will receive the 10% New Customer Discount, even if you've previously purchased Flint River Ranch pet foods elsewhere.

10% Off Auto-Ship Discount. By signing up for one of our auto-ship sheduled delivery options you'll receive an additional 10% Off your initial auto-ship order. (Subsequent deliveries will be billed at the regular Flint River Ranch prices.)
To take advantage of our auto-ship service, simply select one of the auto-ship options available on our automatic shipment page and then add your desired Flint River Ranch dog foods or cat foods to your shopping cart.
As a new A+ FRR customer you can combine these discounts for a total savings of 20% Off your initial order of Flint River Ranch food and treats! Order today as these discounts will only be available for a limited time!
Both of these discounts are automatically applied at checkout, so there's no need to enter a Flint River Ranch coupon code in order to receive the discount on your order. Please note that there is a $20 maximum discount on each of the 10% discounts, for a total maximum savings of $40.


Flint River Ranch Specials for Current Customers
Current A+ FRR customers can save on Flint River Ranch as well with our seasonal sales and specials.
Our
'2013 Dog Days of Summer Savings'
discount special recently expired, so although we don't have a special running right now for current customers, we will update this section as soon as we start a new special.
Flint River Ranch Free Samples
We're such strong believers in Flint River Ranch oven-baked dog foods and cat foods that we're willing to give our pet food away for free! Order one of our Flint River Ranch free samples for your dog or cat today — pay only the cost of shipping and handling to have a full two pounds (an $8 value!) of our all natural, healthy pet foods shipped fresh to your door!
We do have a limit of one free dog food sample and/or one free cat food sample package per household / organization, and a $4.99 shipping charge will apply when 1 sample pack is ordered, and a $9.98 shipping charge will apply when 2 packages are ordered.
As part of our free pet food sample pack offer, we encourage you to give your best friend(s) the Flint River Ranch Taste Test — let your dogs or cats show you which food they truly prefer. Then, when they tell you Flint River Ranch is their pick, take comfort in knowing you'll be feeding them the absolute best in nutrition and taste and, through A+ Flint River Ranch, at the best possible price.
Flint River Ranch Coupon Codes
While many of our discounts are set up to automatically apply to orders, we also offer Flint River Ranch coupon codes from time to time that apply to specific dog foods and cat foods or to your entire order. When you enter the cat food or dog food coupon code at checkout, the savings or discount will then apply to your order.
Our current specials are all automatically applied, but we will update this page whenever additional Flint River Ranch coupons are available.
Flint River Ranch Low Price Guarantee
We continually strive to offer the lowest possible prices on Flint River Ranch foods and products. When comparing prices on
Flint River Ranch
wellness pet foods or other premium pet foods, it's important to take into account shipping costs and sales tax. Both of these items are already included in our prices, whereas the official Flint River Ranch site and many other FRR distributors add sales tax to their listed prices before the order is completed.
When sales tax and shipping factors are added in, you'll find our listed prices are almost always significantly lower than those of other sites and Flint River Ranch distributors.

If you do find a lower price listed anywhere else, with our exclusive Flint River Ranch Low Price Guarantee we'll match that price plus give you 20% of the difference.
In addition to being less expensive, here are a few other factors we believe help set A+ Flint River Ranch apart from the competition:
Discounts for new customers, seasonal specials, and gift promotions

Free try-before-you-buy samples of many Flint River Ranch dog food and cat food formulas

More efficient and more personalized customer service coupled with an easier to use website that features:

Expedited order processing (see below)
Exclusive Online Auto-Ship Services System for viewing and modifying automatic shipments
UPS shipping information, with date of arrival notifications
Online order tracking with real-time shipping status via UPS
A streamlined, easy to use, efficient shopping cart
Online customer account management
Extremely prompt, helpful reponses to customer service inquiries within 24 hours
We also have operators available on evenings and throughout the weekend to process your orders and answer any questions you have during periods outside of the typical operating hours. This enables your orders to be entered into the Flint River Ranch system ahead of those of other distributors and even those placed directly through Flint River Ranch's corporate site. This expedited order processing helps ensure your Flint River Ranch foods and products arrive in the shortest possible time.
It's important to shop around for the best price and service. We believe A+ Flint River Ranch offers the best prices to go along with professional, award-winning customer service, quick and efficient order processing, and a variety of unique selling points that you won't find elsewhere.
Give us a try and experience the A+ Flint River Ranch difference that has helped us earn rave reviews from our customers: