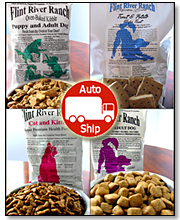 Flint River Ranch Auto Ship Option
Our unique
Flint River Ranch Automatic Shipment
sheduled delivery option is designed to ensure you always have the freshest possible super premium Flint River pet food for your dogs and cats when you need it. The flexible auto-ship program allows you to choose how frequently your Flint River Ranch food and treats are delivered to your door via UPS. The option means no more worrying about running short of food or ordering more supply than you need.
Many of our customers have a set monthly (or weekly) budget for their pet food and treats. The Auto Shipment option perfectly compliments a fixed budget, as you can set the delivery schedule up to know exactly how much you'll be spending per week, per month, per quarter, or whatever system works for you.
Best of all, by choosing one of our auto ship options, new A+ Flint River Ranch customers will receive 10% off their first auto-ship order! That's in addition to the 10% discount on your first A+ FRR order, for a total savings of 20% off your first auto-ship order of Flint River Ranch food and treats! Please note that subsequent orders will be charged at the current Flint River Ranch company prices and may include sales tax**.
Sign up today, as this discount will only be available for a limited time.
*
If you have a unique situation that doesn't fit one of the above options, simply let us know via the
Comments
section when checking out – we'll be happy to work with you on setting up a plan that best meets your needs. You can also modify or cancel your auto-ship option at any time by simply
dropping us an e-mail
.
**
In most cases, the
Flint River Ranch
company manages auto-ships directly after your first order has shipped, and all automatic shipments after your first order will be charged at the current pricing set by Flint River Ranch, resulting in possible variations from the prices listed on the A+ Flint River Ranch website. FRR may also apply state sales tax to automatic shipments. Automatic shipment may be billed under
A+ FRR - Pure Dog, LLC
or
Flint River Ranch
on your credit card statements.