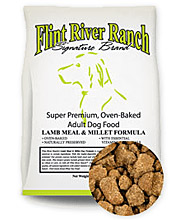 Flint River Ranch Lamb and Rice Dog Food Formula
The Flint River Ranch
Lamb, Millet, and Rice
formula is an all natural, oven-baked ultra premium dog food that's
perfect for the young, growing puppy
or
allergic dog
that requires a
non-wheat-based diet
. The Flint River Lamb and Rice dog food formula is
free of corn, wheat, eggs, chicken, and soy
— five of the most common
allergens
in dogs — making it an ideal diet of choice for dogs and puppies prone to sensitive stomachs or skin- and food-related allergies.
The FRR Lamb and Rice dog food blend contains only high quality, all natural ingredients without fillers, byproducts, chemical preservatives, or artificial additives. The formula's protein sources consist of high quality, human-grade lamb meat and menhaden fish, and the grain includes ground whole millet and whole rice, as well as rice bran. The Lamb and Rice formula also blends in probiotics and digestive enzymes to aid in food digestion and nutrient absorption.

We're such strong believers in Flint River Ranch premium pet foods that we encourage you to give your best friend(s) the
Flint River Ranch Taste Test
— let your dogs show you which food they prefer, and then take comfort in knowing you'll be feeding them the
absolute best in nutrition and taste
and, through
A+ Flint River Ranch
,
at the best possible price
.

The Flint River Ranch Lamb and Rice dog food formula has been
scientifically developed for food-sensitive dogs and puppies
that are prone to skin and/or food allergies as well as dogs that frequently have digestive issues (including loose stools and smelly or excessive flatulence, or gas). The lamb and rice dog food formula is also ideal for the following dog breeds:
Bulldogs - Helps to prevent skin allergies common to breed
Cocker Spaniels - Aids in reducing oily skin and other skin conditions common to breed
Dalmatians - Ideal low-purine dog food diet for preventing urinary stone issues and skin allergies
Doberman Pinschers - Lamb & rice ingredients provide positive bio-nutrietive value from protein and essential amino acids
German Shepherds - Aids in reducing potential digestive problems
Golden Retrievers - Helps to prevent skin allergies common to breed
Great Pyrenees - Helps to prevent skin allergies common to breed
Pugs - Helps to prevent skin allergies (make sure not to overfeed)
Samoyeds - Helps to prevent skin allergies common to breed
West Highland White Terriers and Airedale Terriers - Helps to prevent dry skin and skin allergies common to breeds

Plus Large Breed puppies and adult dogs, including: Labrador Retreivers, Rottweilers, Weimaraners, Boxers, Standard Poodles, Chow Chows, Chesapeake Bay Retrievers, Akitas, Irish Setters, Newfoundlands, Vizslas, Great Danes, Mastiffs, St. Bernards, Old English Sheepdogs, Bloodhounds, Bernese Mountain Dogs, Greyhounds, Alaskan Malamutes, Brittany Spaniels, Collies, German Shorthaired Pointers, larger Terrier breeds, mixed breeds, and more

And Small Breed puppies and adult dogs, including: Beagles, Dachshunds (make sure not to overfeed), Yorkshire Terriers (Yorkies), Pomeranians, Chihuahuas, Shih Tzus (do not overfeed), Miniature Schnauzers (do not overfeed), Miniature Pinschers, Miniature Poodles, Maltese, Cocker Spaniels, Shetland Sheepdogs (Shelties), Pembroke Welsh Corgis (do not overfeed), Bichon Frises, West Highland White Terriers, Pekingeses, Lhasa Apsos, Papillons, Shar-Peis, Cavalier King Charles Spaniels, Cairn Terriers (do not overfeed), Scottish Terriers (Scotties), Jack Russell Terriers, Silky Terriers, Toy Poodles, and many more

Lamb Meal, Ground Whole Millet, Ground Whole Rice, Ground Whole Brown Rice, Chicken Fat (Preserved with
Mixed Tocopherols
- Healthy Antioxidants), Rice Bran, White Fish Meal, Tomato Pomace, Flax Seed, Alfalfa Meal, Natural Flavor, Potassium Chloride, Salt, Vitamins (Choline Chloride, a-
Tocopherol
Acetate (Source of Vitamin E), Niacin, Calcium Pantothenate, Vitamin A Supplement, Ascorbic Acid (Source of Vitamin C), Pyridoxine Hydrochloride (Source of Vitamin B6), Thiamine Mononitrate (Source of Vitamin B1), Riboflavin Supplement, Vitamin B12 Supplement, Vitamin D3 Supplement, Biotin, Folic Acid), Minerals (Zinc Sulfate, Zinc Amino Acid Chelate, Ferrous Sulfate, Manganese Sulfate, Manganese Amino Acid Chelate, Copper Sulfate, Copper Amino Acid Chelate, Sodium Selenite, Calcium Iodate), Kelp Meal, Lecithin, Rosemary Extract, Sage Extract, Dried
Bacillus Subtilis Fermentation Product
, and Dried
Aspergillus Oryzae Fermentation Product
.
Formulated to meet and exceed the nutritional levels established by the
AAFCO Dog Food Nutrient Profile
for
All Life Stages
Guaranteed Free of Animal By-Products, BHT, BHA and Ethoxyquin

Because Flint River Ranch premium dog food formulas are nutrient-dense, you should
feed 20%-25% less than regular dog foods
. Each serving delivers
maximum nutrition without unnecessary fillers
, so you'll also notice a lower stool volume and less clean-up.
It's best to introduce Flint River Ranch Super Premium foods by mixing with your dog's current food and increasing the amount of Flint River Ranch over several days. It will take time for your dog to adjust to the rich, easy to digest, all natural quality. A sudden change in any food source may be a shock to your dog's digestive system. You may notice loose stool. If so, reduce the amount being fed until your dog adjusts.
Feed your dog once or twice a day unless the breed is prone to bloating or
excessive weight gain
(
obesity
), in which case we recommend feeding three smaller meals throughout the day. Food requirements vary depending on climate, breed of dog and exercise activity. Feed an amount that will maintain your dog's weight, and make sure to always have fresh water available.

Crude Protein (Min.)
Crude Fat (Min.)
Crude Fiber (Max.)
Carbohydrates (Avg.)
Moisture (Max.)
Caloric Density (KCAL/Cup)

23.0%
10.0%
4.0%
44.0%
10.0%
397


10-30 lbs.
30-50 lbs.
50-70 lbs.
70-90 lbs.
90+ lbs.

¾ to 1¾ cups per day
1¾ to 3 cups per day
3 to 4 cups per day
4 to 5½ cups per day
5½+ cups per day


Split portion size into 1-3 meals a day
Puppies can generally be free-fed their first year