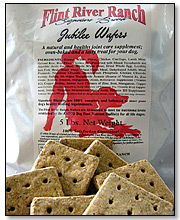 Flint River Ranch Jubilee Wafer Dog Treats
Promote healthy joints with Jubilee Wafers!
Flint River Ranch Jubilee Wafers are crunchy oven-baked, all-natural dog treats fortified with Glucosamine and Chondroitin Sulfate to assist with canine discomfort from degenerating joints and arthritis, helping to lubricate joints and inhibit enzymes that break down cartilage.
In addition to helping prevent and manage osteoarthritis and other health-related issues, the healthy and holistic Jubilee Wafers are also great for training and for rewarding good behavior, and are sure to become a favored treat of choice for your canine companions!
Flint River Ranch Signature Jubilee Wafer biscuits are 100% complete and balanced to meet your dog's healthy feeding requirements, and are formulated to meet the nutritional levels established by the AAFCO Dog Food Nutrient Profiles for all life stages. The Flint River Ranch Jubilee Wafers are packed approximately 170-175 wafers to a 5 pound bag (an extra 0.25 lbs are also included to replace any wafers broken in shipment for a total of 5.25 pounds).

Glucosamine and chondroitin sulfate are naturally occurring components that act as building blocks for the functioning of healthy cartilage and flexible joints. These organic supplements work by minimizing cartilage damage and swelling, increasing joint lubrication, helping to rebuild the cartilage that cushions and protects joints, and enhancing new cartilage production.
You can start feeding Jubilee Wafers as a preventive measure, especially in young dogs whose breed may be prone to hip dysplasia, disc disease, osteoarthritis – any joint disorder. Any dog that has experienced severe joint trauma will also benefit from Jubilee Wafers. The treats are a natural food product, so feeding Jubilee Wafers in conjunction with arthritis medication prescribed by your vet can be useful with no side effects.
And if you're looking to add glucosamine and chondroitin to your dog's regular diet, be sure to try our Flint River Ranch PLUS Premium Pet Food formula.

The Flint River Ranch Jubilee Wafers are ideally
formulated for puppies and adult dogs of all life stages, sizes, and breeds,
and are 100% complete and balanced to meet your dog's healthy feeding requirements.
The Glucosamine and Chondroitin Sulfate-fortified Jubilee Wafers are formulated to:
Help lubricate joints
Provide a mechanism for nutrient absorption
Support anti-inflammatory effects on joints
Help regulate activity on cartilage
Inhibit enzymes that break down cartilage
Help maintain ideal weight with lower fat and fewer calories
Offer the same great smell and taste of our regular dog food formulas
There's no need to wait for the symptoms of arthritis or cartilage damage in the knee or elbow joints — ensure your mature, inactive, or overweight dogs maintain healthy and pain-free lifestyles by supplementing their regular diet with Jubilee Wafers!
You can also ensure your genetically-predisposed young adult dog maintains a long, healthy, pain-free lifestyle by regularly providing him or her with the tasty Jubilee Wafer treats. These dog breeds commonly inherit the following health issues and can benefit from Jubilee Wafers:
Degenerative Joint Disease and Osteoarthritis:
Many large and giant breed dogs, especially
Golden Retrievers, Labrador Retrievers, German Shepherds, Rottweilers, Great Danes, Doberman Pinschers, Mastiffs, St. Bernards,
and
Newfoundlands
Hip Dysplasia:
Many of the same large and giant breed dogs, including
German Shepherds, Labrador Retrievers, Rottweilers, Great Danes, Golden Retrievers, Doberman Pinschers, Mastiffs, St. Bernards, Border Collies, Newfoundlands, English Mastiffs, Neopolitan Mastiffs,
and
Bullmastiffs
. In some cases, about 50 percent of these larger breeds are affected.
Elbow Dysplasia:
Basset Hounds, Bernese Mountain Dogs, Bloodhounds, Bouvier des Flandres, Chow Chows, German Shepherds, Golden Retrievers, Great Pyrenees, Irish Wolfhounds, Labrador Retrievers, Mastiffs, Newfoundlands, Rottweilers, St. Bernards,
and
Weimaraners
Degenerative Disc Disease:
Disc problems such as herniated discs primarily occur in
Dachshunds, Beagles, Bassett Hounds, Pomeranians, French Bulldogs, Lhasa Apsos, Pekingese, Shih Tzus, Welsh Corgis, Cocker Spaniels,
and
Miniature Poodles
.
Doberman Pinschers (Dobies)
can also be affected by intervertebral disc disease, commonly in the neck region.
Patellar Luxation:
Miniature and Toy Poodles, Yorkshire Terriers, Pomeranians, Pekingese, Chihuahuas, Boston Terriers, Basset Hounds, Bichon Frise (Bichons), Shih Tzus, Silky Terriers,
and
Lhasa Apsos
Our FRR Signature Wafer Treats are also available in these tasty flavors:

Ground Whole Wheat, Chicken Cartilage (a natural source of
Glucosamine and Chondroitin Sulfate
), Lamb Meal, Ground Rice, Rice Flour, Chicken Fat (preserved with
tocopherols
- healthy antioxidants - and ascorbic acid), Oat Meal, Whole Wheat Flour, dried whole egg, lecithin, salt, fish meal, dried whey, wheat germ meal, dehydrated alfalfa meal, flaxseed, potassium chloride, monosodium phosphate, choline chloride, ferrous sulfate, dl-Alpha
tocopherol
acetate (source of Vitamin E), zinc oxide, sodium selenite, manganous oxide, riboflavin supplement (Vitamin B2), copper sulfate, amino acid chelates of zinc, iron, manganese, copper, cobalt, niacin, ascorbic acid (a source of Vitamin C), Vitamin B12 supplement, iodate, thiamine mononitrate, folic acid, and Vitamin D3 supplement.
Formulated to meet the nutritional levels established by the AAFCO Dog Food Nutrient Profile for All Life Stages
The FRR Jubilee Biscuit Treats are 100% complete and balanced to meet your dog's healthy feeding requirements
These Statements have not been evaluated by the Food and Drug Administration (FDA)
Jubilee Wafers are not intended to diagnose, treat, cure or prevent any disease

Crude Protein (Min.)
Crude Fat (Min.)
Crude Fiber (Max.)
Moisture (Max.)
Chondroitin Sulfate
Glucosamine HCL

15.0%
5.0%
3.5%
10.0%
125 mg per 15 gram wafer
15 mg per 15 gram wafer


Small Dogs (Less than 20 lbs.)
Medium-Sized Dogs (20-50 lbs.)
Large Dogs (50-85 lbs.)
X-Large Dogs (Over 85 lbs.)
1-2 Wafers per day
2-3 Wafers per day
3-4 Wafers per day
4-6 Wafers per day

Feeding 2 Jubilee Wafers twice a day (total 4 wafers) will provide
500mg Chondroitin Sulfate and 60mg Glucosamine HCL