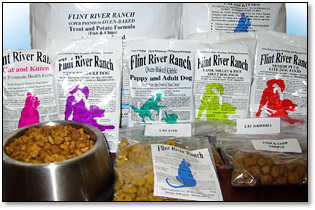 FREE Sample of Flint River Ranch Pet Food
We're such strong believers in Flint River Ranch premium wellness pet foods that we're giving the food away! Order one of our
free pet food samples for your dog or cat
today – pay only the cost of shipping and handling (
$4.99
— $8.99 for the new Grain-Free Cat Food) to have a nearly 2 pound sample assortment (
a $9 value!
) of our all natural, healthy pet foods shipped fresh to your door!
We encourage you to give your best friend(s) the
Flint River Ranch Taste Test
— let your dogs or cats show you which food they truly prefer. Then, when they tell you Flint River Ranch is their pick, take comfort in knowing you'll be feeding them the
absolute best in nutrition and taste
and, through
A+ Flint River Ranch
, at the
best possible price
.
Note:
A
$4.99 (or $8.99 for the cat food) shipping charge
will apply when 1 package is ordered, and a
$9.98 shipping charge
will apply when 2 packages are ordered.
There is a limit of one free dog food sample and/or one free cat food sample package per household/organization.
If you need more than one sample pack, additional samples can be ordered at regular prices from our
Flint River Ranch multiple samples
page.
Click on the items below for additional information on the formulas included in each of the packages.

Do you have a pet or pets that you truly care about? So do we — that's why we started this business and that's why we've made it our mission to provide pets with
the healthiest possible premium foods made with only the best all-natural, human-grade ingredients
. Unfortunately, many commercial pet food manufacturers fail to share our goal, putting more effort into misleading marketing and shaving expenses at the cost of quality. That's why it's so important to educate yourself on exactly what your pets are eating and what goes into your pets' food.
Not all premium pet foods are created equal. The secret to good nutrition is not just in the quantity of nutrients present in a food, but also in how available they are and how efficiently they can be utilized when digested.
The wholesome, healthy value of Flint River Ranch is baked-in to the food.
You can pick up a handful of
Flint River Ranch
premium oven baked pet food and breathe in the full, rich aroma. And when you run it between your fingers there's no greasy film left on your hands or undesirable smell.
Want to learn more about the benefits of Flint River Ranch premium pet foods vs. other pet food brands? Read our
Top 10 Reasons for making the switch to Flint River Ranch
.