Flint River Ranch Customer Testimonials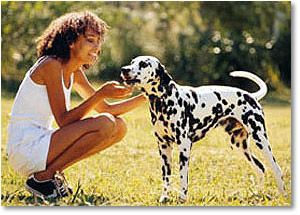 We're proud to share a sampling of the many testimonials and experiences received from loyal and satisfied Flint River Ranch customers, breeders, and veterinarians.
We'd love to hear from you as well — please don't hesitate to
send your Flint River Ranch reviews, comments and feedback to us
.
"I received my first order of Flint River Ranch dog food today (after only ordering 2 days ago!!) The delivery speed is impressive. I also appreciate the 'order status' email updates.

"My three dogs (2 Shelties and a Chow-mix) made it very clear that they love the taste of the food — they actually dug through the Science Diet I'd mixed it with to get to the Flint River kibble bits!"
Nancy P. - Knoxville, Tennessee
"After the current scare with tainted dog food, I decided to make a switch. While the food I currently use is not on the list of recalled foods, other products from the same company are. My Jack Russell Terrior means the world to me and can be a bit of a picky eater.

"She loves your Lamb, Millet and Rice dog food formula. I am reassured by the fact that only human-grade ingredients are used and do not worry that her food will contain something that is not fit for human consumption. If it isn't fit for me to eat, why would I want my dog to eat it?

"I look forward to a long and healthy association with your company."
Cheryl H. - Manassas, Virginia
"I am a very 'small' customer, only ordering a small bag of your senior dog food every few months for my little senior dog. I have been very pleased with the quality of your dog food. My little dog is doing well on it and is able to chew it up, something she's had trouble with on other foods.

"When I read a caution about any pet food containing wheat gluten, I immediately checked the bag. I wasn't at all surprised to find NO wheat gluten in the ingredients list.

"I've been happy not only with the quality of the food, but also the ease of ordering and the amazing speed of delivery. Thanks so much for a quality product and great service. "
Eleanor R.
"My dog Chewy is an 11 year old Lab Mix. The Flint River Ranch Senior Lite dog food that I ordered for her is ourstanding. I have never seen her enjoy her food like this. Thank you for your good service and your outstanding product."
James W. - Gallatin, Tennessee
"I wanted to tell you how Flint River Ranch food has been a lifesaver for my dog. I have a golden retriever with the following allergies: Barley, Chicken, Eggs, Oats, Pork, Potatoes, Soy Beans, Turkey, and Venison, along with MANY environmental allergies.

Your Flint River Ranch Lamb & Rice has been the only dog food formula that he has been able to tolerate!! We were spending a fortune on vet bills and finally had the allergy tests done but I was unable to find dog food anywhere until I went back on your website.

I recommend your food and website to everyone because it's such good food and I don't have to go broke for the good food!!!"
Janet G. - East Troy, Wisconsin
"Flint River Ranch has been a favorite of my canine companions and me now for a number of years. We are not only impressed by the quality of the product but also your helpful and always friendly standard of customer service. Flint River Ranch's pledge to excellence is both obvious and appreciated by me and my pals."
Lee - Illinois
"We have an older lab that was having problems with her coat and skin. Also, she was losing weight. The vet said it could be the corn filler in the supermarket dog food we were giving her. After one month on Flint River Ranch, Daisy has now gained weight and her coat is beautiful!

"Her skin problems have disappeared, so she is comfortable. The vet said: "This can't be the same dog!" When we changed to your dog food, I thought Daisy might reject the new food, but she gobbled it up! Thanks!"
Daisy's Mom
"I've been using your products for my Golden Retrievers for over a year, and I'm very pleased with the results. I breed my dogs, and I'm very selective about the dog food I choose. I had been with my previous brand for seven years, but it was becoming increasingly difficult to obtain.

"My vet referred me to Flint River Ranch, and I'm really glad I took the plunge. The dogs recover faster from their whelping and have plenty of milk for their pups. They also produce less waste and their breath is much better, plus they actually eat less than before."
Valarie
"Thank you! My order arrived within 2 days. We're new to Flint River Ranch, but I can tell you that my dog seems to love the kibble! We were forced to switch to another premium brand a couple of months ago (the food we had been buying was no longer available because the local distributor had gone out of business, and the company that made it didn't seem interested in marketing in the Northwest).

"Our dog wasn't thrilled with the new food (and the kibble didn't smell as good to me, either). So, we made another switch to Flint River — and so far, we couldn't be happier! Thank you for the great food and service! We'll definitely be spreading the word...
Barbara H. - Seattle, WA
"I think you have a terrific website — and the best and most efficient ordering site I have ever used. Great job!

"I really like having the website to order whenever I need to order. Thanks."
Betsy P.
"I received my first order of Flint River Ranch dog food today (after only ordering 2 days ago!!) The delivery speed is impressive. I also appreciate the stream of "order status" email updates.

"My three dogs (2 Shelties and a Chow-mix) made it very clear that they love the taste of the food (they actually dug through the Science Diet I'd mixed it with to get to the Flint River kibble bits!)

"I expect that you'll have me as a steady customer for a long time."
Nancy P. - Knoxville, TN
"I have five toy breed dogs, finicky eaters. Never have I seen them eat any dry food like they eat your food. They actually growl at each other over the broken chunks!

"I don't know what you are doing but keep it up. My guys have been eating Flint River Ranch for around 2 months and are so bright, and energetic, clear eyed, minimum poop!!!!, I can't say enough."
Dorothy H.
"Thank you so much. You are wonderful. We are so happy to have found Flint River Ranch. Our dogs love the dog food and the dogs with allergies are much improved.

"Just as an FYI, last year two of our dogs were diagnosed with cancer. As a nurse, I decided to do some investigation, and found that just like humans, dogs suffer from food-related diseases. After quite a bit of research, I settled on Flint River Ranch as our best option. We are thrilled with the product and service. We have told many dog and cat owners about FRR and will continue to do so. Again, thank you for everything."
Sherri S.
"We have always left the bag of dog food where our 14 year-old dog could reach it. When I introduced Flint River Ranch and put the dog food bag in the same room as always, he chewed a hole in the side of the bag to get to it! He has never done that with any other food. I put the food into a plastic bin, but before I could put the cover on it, he had his head in it, and I could hardly pull him away. Thank you!"
Susan - Minnesota
"We have 2 kittens named Callie and Abby. We have them eating Flint River Ranch cat food. They have eaten the food like crazy for years. They love it and have no health problems, and their coats shine and are soft.

"Since they have been on Flint River cat food they have never had to have their teeth cleaned. Our cats have never been sick in the eight years we have had them. We thank Flint River Ranch for our cats' health and well being mainly due to the wonderful Flint River cat food products we feed our cats. Many thanks!"
Kathy
"Wow, I love it! My 5 little dogs are a 15-year-old toy poodle, "Muffin," who no longer has dry, itchy skin; a mini dachshund, "Peanut," who no longer has rear-end stiffness; "Bon Sai," a 7-year-old Shih Tzu, who has no more dry skin; "Ruby," a 5-year-old Pomeranian, who is now wonderfully energetic; and "Chunky," a 6-year-old Pekinese – queen of the world – who has finally found a food she loves!!!!"
Dorothy - New Jersey
"My fiance and I are the proud owners of two spirited, wonderful Dalmatians. Quite recently, one of our Dalmatians, Brandy, was suffering through what seemed like a lot of licking of his anus. While it was annoying, I thought it may be serious. At my insistence, I asked my fiance to take him to the vet, and he was diagnosed with an anal gland infection. I thought that was it once he was treated and given antibiotics. To my shock, he took a turn for the worse, and seemed to strain while urinating. Then he stopped defecating and after two days of this (and his refusal to eat) I insisted he return with our dog to the vet. I was thankful that I was so persistent!

"Brandy ended up with a terrible case of urinary stones and while he did not require surgery, he was in an awful lot of pain, and with the additional nuisance of the anal gland infection he was days from death if we had waited. He is now much better and has recovered from both conditions. But I was so scared once the vet wanted to put him on new food (namely Hill's Science Diet U/D) that I decided to do research on urinary stones and Dalmatians — this, after our vet sent him home with this food and medication. That's where your website came along and I am so glad it did.

"Needless to say, our vet put him on Hill's Prescription U/D dog food, and I was thoroughly upset, because my dog did not like it and I had to coerce him to eat. Patch, our other Dalmatian, seemed to adjust to the new food, but I was still upset. That was, until I found your website and after communicating with our breeder, who said a low protein diet was not necessary; what our dogs need is a diet low in purines. To make a long story short, I went on the Web and did research on Dalmatians and purines and came across your website. I have become very educated on the topic of purines since, can speak at length about it (since I am a passionate dog owner), and I can only say: Thank you A+ Flint River Ranch, for saving my dogs from tasteless, awful food that would have caused more problems than it would have solved. While I adore my veterinarian (he's a brilliant man and is very good with my dogs), I think he should re-educate himself on dietary needs for pets, especially dogs (and Dalmatians in particular). I think there is much he can learn on the subject...

"I have since switched my dogs completely from all store-bought dog food and dog treats to Flint River Ranch dog food and dog treats. They are so happy and I had no problems with the switch, since I didn't even mix the food with anything they might have had previously — they ran out of food shortly before the issues with Brandy arose — and I am pleased to say they look forward to really good dog food and really amazing treats.

"Thank you again for literally saving my dogs. Enclosed please find a couple of pictures of Brandy and Patch. They love your food and treats!"
Lucy and Scott - Minnesota
| | |
| --- | --- |
| Patch | Brandy |
"Hi, I just wanted to let you know when I ordered and received your Flint River Ranch puppy kibble and I was at my last resort with my seven-month-old Chihuahua. She wouldn't eat any other any puppy food I buy her. I buy quality food not from stores but still no luck — she sticks her nose up at it.

"We do not feed her people food because I am a vet tech and it is not healthy for them. The minute I received your food (rapid shipping I might add) I offered it to Lily and she ate the whole bowl and wanted more!!!!

"I am lost for words except A BIG THANK YOU. I found your food and I knew I had nothing to lose!! Thanks again and you have a lifetime customer!!!!!!"
Sandra B.
"A different food brand was recommended to me, but after four weeks of using the product, my dog was emaciated. He ate two to three cups of it per day and ended up being rushed to my vet with a dangerously low heart rate. After restarting your Flint River Ranch in small doses every three hours, he has regained the five pounds he lost and his heart is almost back to normal.

"I will NEVER change to anything else again — Flint River Ranch is the absolute best of all products!"
Nina - New Jersey
"Hi!, My name is Jocelyn and my dog, Sampson, a one-year-old, 105-pound Chocolate Labrador has only eaten Flint River Ranch dog food since day one. His coat is amazingly luxurious, his eyes clear, and his teeth and breath are fabulous. I thought I'd send you a picture of him, as proof of how wonderful your products are. He is so healthy. I recommend Flint River Ranch products to all my dog-loving friends. Thank you."
Jocelyn
"I wanted to take a moment to thank you for your excellent customer service. The timing of the delivery was perfect! Tomorrow, we will finish the last shipment, and I was getting nervous. You see, my dog has not had a seizure since we switched his food to Flint River Ranch.

"He is not on any medication! I credit this to the fact that you don't use preservatives or other added ingredients that might cause an allergic reaction. You are GREAT, and I appreciate not only your efficient delivery, but that you actually cared enough to call me and let me know when it would be arriving."
Kathy
"Just wanted to let you know I was very pleased with the ease of ordering this food and the speedy delivery right to my front door. I am so glad to find a healthier food for our Dalmation ... With my work schedule, going to buy dog food from the vet is time consuming and stresses me. Thanks so much!"
Deby - Austin, Texas
"I just wanted to let you know that my Sadie loves her Flint River Ranch dog food. She growled at us when we tried to take her FRR biscuit away from her last night. For the first time ever she ate all of her food when she got up. We could not believe how well she did with it.

"Thank you so much for talking with us about her nutrition. You are never too old to learn something so important to the future and health of something you love so much."
Sharon
"I have a Maltese, Jasmin, who had a terrible problem with tear staining. This area would never come clean. I started her on your food and within a couple of weeks, she had no more problem with tear stains. The groomer and the vet were amazed. I shared your product information with them.

"I won't be feeding Jazz anything else!"
Brenda C.
"I have a 1-year-old Shiba Inu who was a rescue from a puppy mill. Recently he developed a severe allergy to something, and we deduced that it was his dog food. He was eating N***** N***** C*****, not a cheap brand. After a suggestion from a friend, I went to a specialty dog food store and with the advice of the clerk, purchased Flint River Ranch dog food, the Lamb/Millet/Rice dog food bag.

"Kenshin has always been a picky eater, but I have never seen him devour his food like he did that first day. Not only have his allergies started to clear up, but he is putting on weight and is looking healthier than he ever has. His ears aren't ragged from scratching, and all his hotspots have cleared up, and the hair is starting to grow back over healthy pink skin.

"When looking at ingredients, the first on the list of most commercial dog foods is corn, which we think has been triggering his allergies. Flint River Ranch is one of the few that actually thinks about a dog's biology when making their food — when do you ever hear of a pack of wild dogs raiding a cornfield??

"Recently I acquired another Shiba Inu, this one is only four months old, and he will skip over his food in preference for Kenshin's Flint River Ranch. I can see that I will have to go back to the store for your puppy dog food as well, to keep them from arguing over the food!

"Thank you for making such a great product, I only wish that everyone had your commitment to our pets!!"
Valerie - Atlanta, Georgia
"We are delighted with our connection with you and Flint River Ranch pet foods. I worried about ordering food from afar, but it has been easy and always arrived more quickly than I could have hoped.

"Our 11-year-old dog developed calcium oxalate stones and underwent emergency surgery about 1 1/2 years ago. Following this, he was placed on a special low-protein diet formulated to lower the risk of forming recurrent stones. Over a period of approximately a year, he seemed to age considerably. He was perpetually thirsty, and his hunger was never satisfied. His energy and strength were diminished, his muscle tone poor, and his coat appeared thin and dull.

"We worried about multiple medical issues, but, in the end, it seems that he was in a kind of starvation state. Although his medical diet was begun to treat the stone formation problem, long-term it ended up inducing an unhealthy nutritional state. We researched various dog foods, looking for a diet with low but still reasonable amounts of protein and a favorable urine pH, and one that would not cause the muscle wasting and profound thirst that he had experienced before.

"Over the 5 months he has been on your Flint River Ranch Lamb and Rice formula, his energy and strength have returned, his muscle tone is good again, his thirst is normal, his coat has thickened, and his eyes are bright again. He loves the taste, too. We will monitor him carefully in the hope that the formula will be adequate to prevent stone recurrence. At this point, he has returned to his happy, exuberant self. Many thanks.
Holly - Harvard, Ma.
"I have been using Flint River Ranch dog foods for my Schnauzers for about 6 years now. I purchased a pup from a breeder in Tenn. I told her about the problems I have had with my Schnauzers, which went from stomach, to stones, to bad skin problems, seizures, and the list just went on and on.

"I thought there was no such thing as a "well" Schnauzer. She said that I would need to put them on Flint River Ranch pet food, as that is what the new puppy was on, and it would take care of all of those other problems. The veterinarian I previously had for my Schnauzers had put them on several different foods, special diets, and even homemade diets and still no luck. My vet bills reached over $2,000.00 a year.

"Then I switched to Flint River Ranch and the results have been nothing but amazing. The pups are healthy, happy, and love the food. I am so satisfied with the food that I have given samples of the food to people to try on their pets with skin problems and they have made the switch to Flint River Ranch.

"Some people think that there is no difference in dog food and that dogs will eat anything. Flint River provides a well-balanced diet and this helps the dog to stay healthy and their coats even improve. My pups don't eat as much food as before and are still completely satisfied.

"I cannot say enough about this food and the company. Flint River Ranch has always been very pleasant to talk to and placing orders has been very easy. I also like the fact that the food is delivered to my home. All in all, I am very satisfied with your food and I know that my pups are being fed the best of the best.

"Thank you for your caring about these pets enough to come up with the well-balanced diet — one that is nutritious and priced very affordably. Thank you again for helping to ensure my family of Miniature Schnauzers remain healthy and well fed."
D.J.S. - Mandan, North Dakota
"This is the second time I have looked into switching to Flint River Ranch. I finally took the plunge and put my dogs' health first. Honey, our lab, has allergies to fleas and who knows what else. Chad and Max are both toys, Chad is a Yorki-poo and Max is a Yorkie.

I must say that I am so excited to see them so happy to eat. The boys actually pick out the Flint River and leave the other for Honey, LOL. It's a funny site to see actually.

Although I've known that the product is the best, I must admit it was the testimonial posted on your site that was the deciding factor of "who" I purchased the dog food from. I always do a ton of research and hearing what others say is the main thing I look for.

Not to mention the super fast service. I thought I was going to have to buy another supply of their old food to mix, but I received the shipment on Monday after ordering it on Thursday. Two days and free shipping - I can't ask for better service.

Again, thank you!!"
Tina N. - West Milton, Ohio
"Thought you might like to know what I found out yesterday. I do not know if you know of a Dr. Dodd or not. She is world renowned for her studies on vaccinations schedules, nutrition, and medications. I am following her vaccination schedule and also her advice on nutrition. A major concern on pets especially Cocker Spaniels is the copper content in the food. It can also play a role in hitting the immune system.

"I discussed with her several dog foods, including W********, I******, and Flint River Ranch. She did not care for I****** as it is not baked. Actually she did not care for either W******* or I****** as the copper content in each is extremely high. This Doctor is booked through the year 2005.

"I know this as we tried to get her to speak to the Cocker Club. She spoke very highly of FRR. She has researched (and I have as well) the copper content and your food is extremely low. From what I have investigated personally it is the lowest on the market. One of the non-FRR pet foods, for example, has 10mg/cup. Per Dr. Dodd you really DO NOT want to exceed 1-2 mg/cup (lower than 1 if possible, which is what yours is for the Lamb and Rice dog food formula.

"Thought you might be able to use this info to help other people in a food decision. It was AWESOME NEWS to me! Again, FRR rises to the occasion!"
Carolyn - Dallas, Texas
Read More Flint River Ranch Testimonials
and
Page 3
...
Flint River Ranch Reviews and Ratings from Other Sites
If you're looking for more reasons why you should make the switch to Flint River Ranch, we'd like to recommend:
Better Ingredients. Better Pet Food. Flint River Ranch.