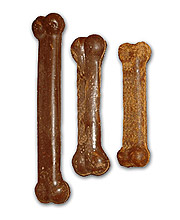 Flavored Nylabones and Nylabone Healthy Edibles

Nylabone
® products are
safe, non-toxic, edible dog chews
that will provide your pet with many hours of non-stop chewing enjoyment while
greatly reducing tartar and plaque build-up
, all in a safe and healthy way!
Nylabones help keep your dog's teeth strong and clean, and your dogs will find the baked-in smell irresistible. Satisfy the chewing urge naturally! A safe and enjoyable alternative to traditional rawhide and processed animal parts, the all-natural, completely digestible gourmet health treats for your dogs contain NO plastic, NO added salt or sugar, and NO color additives.
Our Nylabone Healthy Edibles are currently available in three sizes – Regular (4.5 inch), Wolf (5.5 inch) and Giant (7.75 inch) – and an assortment of natural flavors made with real carrots, real peanuts, real bacon, real rawhide, real spearmint and real fruits! All Nylabones are made from 100% natural ingredients!
The Nylabones are sold in packs of six nylabones.
Flint River Ranch has discontinued these items
but we do have these alternatives available: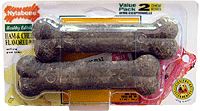 Satisfy you dog's chewing urges naturally with our 100% safe and healthy Nylabones. These tasty dog chews help keep your dog's teeth strong and clean and provide hours of enjoyment for your best friend.
Our bestselling ROAR-HIDE™ Rawhide-flavored Nylabones solve major problems long associated with rawhide products. Dogs cannot choke on the ROAR-HIDE™ because it is a unified mass. The manufacturer has taken regular rawhide and ground it up into little bits about the size of a grain of rice or corn. It is then melted at approximately 500 degrees F and injection-molded into the bone shape. This sterilizes it and makes the rawhide bones impossible to ribbon or otherwise threaten a dog's health in any way.
Because ROAR-HIDE™ is bone-hard, the dog attacks it only on the end, so it doesn't become a sticky mess. Most of the stickiness is also taken out in the molding process. ROAR-HIDE™ is high protein (more than 86%), low fat (less than 1/3 of 1%), and long lasting!
The carrot flavor is 50% real carrot, and the spearmint flavor freshens breath.
And with Nylabone's satisfaction guarantee, if you're dissatisfied for any reason, the product can be returned to Nylabone for a full refund or replacement.
100% Safe, Natural and Healthy - Satisfaction Guaranteed