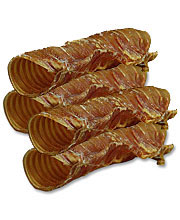 Toobles Dog Chews
All the quality that Flint River Ranch is famous for in a tasty, healthy "Toobles" dog chew treat! Flint River Ranch Toobles Dog Chews come straight from Mother Nature and provide your dog with a healthy, safer, all natural dog treat that will leave little to no odor and no mess.
The Toobles dog chews have a smokey taste and a crunchy texture your dog will love. These USDA-inspected trachea chews for dogs are slow roasted to perfection and are made right here in the USA without the use of any chemicals and are extensively tested for safety!
You'll love keeping your dog happy and occupied with a safe dog chew that's naturally low in fat and high in protein, while the chewing actions will help to keep your dog's teeth clean and her gums strong and healthy. Plus, unlike rawhide and many other dog treats, our toobles are 100% digestible, allowing your dog to exercise his natural urge to chew while keeping your home from being damaged or messing up your carpets.
Our 100% All Natural Toobles Dog Chews for dogs are:
A Safe and Healthy Alternative to High Fat, High Calorie Dog Treats
100% Digestible and Will Not Splinter Like Dog Bone Chews
Oven-Baked for Flavor and Cleanliness
Naturally Low in Fat and High in Protein
No Grease, Little to No Odor, and No Mess
Help Clean Teeth Naturally
Free of Chemicals
Won't Stain Carpet or Clothes
The delicious, naturally-flavored Toobles dog chews are available in packs of 10 for the best possible pricing, with each tooble 8 inches to 9 inches in length. The toobles chews are recommended for dogs of all sizes and contain no chemical preservatives, artificial colors, or flavors. And, like all Flint River Ranch products, there's no Meat By-Products, BHT, BHA, or Ethoxyquin – only the best for your dogs.
Shipping note: Our Toobles chews ship via UPS SurePost and are delivered by the United States Postal Service, and they may take up to 10 days to arrive.