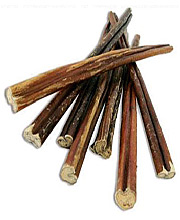 Bully Sticks for Dogs
All the quality that Flint River Ranch is famous for in a tasty, healthy bully stick dog chew! Dogs absolutely love
bully sticks
(also called
pizzles
), and you will love keeping your dog happy and safely occupied with a low fat, low calorie dog chew while the chewing actions help to keep your dog's teeth clean and his gums strong and healthy. And unlike rawhide and other dog treats, there's little to no odor and no mess, so your dog can exercise his natural urge to chew without making a mess on the carpets or damaging your home.
Flint River Ranch Bully Sticks come from South American and Cost Rican free-range, grass-fed cattle, and the pizzles are completely chemical-free. The low-to-no odor is a result of proper processing of the freshest cattle products, which are then oven-baked for extra flavor and cleanliness. All batches are tested to ensure safety and the highest possible quality, and are USDA-regulated and approved.
Our 100% All Natural Bully Sticks for dogs are:
Safe and Healthy Alternative to High Fat, High Calorie Dog Treats
Oven-Baked for Flavor and Cleanliness
Long-lasting and Will Not Splinter Like Dog Bone Chews
No Grease, Little to No Odor, and No Mess
100% Digestible (Unlike Rawhide)
Helps Clean Teeth Naturally
Low in Fat and High in Protein
The delicious, naturally-flavored bully sticks are available in packs of three or six. Our tasty pizzle treats contain no chemical preservatives, artificial colors, or flavors. And, like all Flint River Ranch products, there's no Meat By-Products, BHT, BHA, or Ethoxyquin – only the best for your dogs.
Shipping note: Our Bully Sticks ship via UPS SurePost and are delivered by the United States Postal Service, and they may take up to 10 days to arrive.