A+ FRR Security Policy
A+ Flint River Ranch
knows that you care about how information you provide on the Internet is used and shared. We appreciate your trust and want you to feel confident in our services and security as it relates to your personal information.
What Is SSL?

SSL (Secure Socket Layer) is a protocol designed to enable encrypted, authenticated communications across the Internet. SSL encrypts the channel between your web browser and the web server so that only the intended parties can read private data, such as payment or credit card information, while preventing others from capturing, viewing or modifying the data being exchanged. While many sites incorporate 128-bit SSL encryption, which is strong but not fail-proof, A+ Flint River Ranch uses the stronger and more complex 256-bit encryption protocol.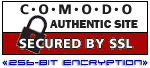 How Is My Information Protected at A+ FRR?

A+ Flint River Ranch uses 256-bit SSL encryption to securely protect your confidential information for all online purchases. This is currently the strongest digital certificate technology available. Your credit card and order details are secure when entered at checkout, fully encrypted when transmitted, and then completely entrenched behind a firewall in our secure server and decoded only by one of our authorized employees. This prevents third parties from viewing your information at all times. It is our goal to prevent unauthorized access and maintain data accuracy and the correct use of any and all information you provide.

Your browser will display a closed padlock or an unbroken key in the lower right corner of your browser window when you are in secure section of the site. These symbols indicate you are currently being protected by SSL and that every piece of data entered while in the secure section will be encrypted and transmitted safely.

How Is My Credit Card Information Protected at A+ FRR?

online payments diagram
). The company adheres to strict industry standards for payment processing, including:
128-bit Secure Sockets Layer (SSL) technology for secure Internet Protocol (IP) transactions.
Industry-leading encryption hardware and software methods and security protocols to protect customer information.
Complete compliance with the Payment Card Industry (PCI) Data Security Standard.
Additional information on how Authorize.Net uses the most sophisticated and secure technology possible to guarantee the privacy of your sensitive cardholder data is available at
Authorize.Net's Privacy Policy
site .
A+ Flint River Ranch
is registered with the Authorize.Net Verified Merchant Seal program (click on the image above and to the right for additional information).
How Do I Use My User ID and Password?
Many areas of the site require the use of a User ID and Password as an additional security measure that helps protect your confidential information. This allows A+ FRR to verify who you are, thereby allowing you quick and complete access to your account information while also preventing unauthorized access.
When you have completed an order or concluded your account access using the secure area of A+ Flint River Ranch, make sure to always click the "Log Out" button that appears at the upper right corner of the screen. When you click on this button, you will be given the option to end your secure session. No further secure transactions can be conducted without re-entering your User ID and Password.
We strongly recommend that you keep your User ID and Password secured and protected, and never give this information to anyone. A+ Flint River Ranch and its employees will never ask you for your ID or Password.
Also, for your security, we never store credit card numbers online.
Questions
Questions regarding our Security policies,
Privacy policy
,
Shipping and Return policies
, Conditions of Usage or other policy-related material can be directed to our support staff via the
Contact A+ FRR
page.