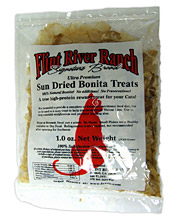 Flint River Ranch Bonita Flakes Cat Treats
Flint River Ranch's new
Bonita Cat Treats
are ultra premium, all natural taste delights for cats both young and mature of all breeds.
The 100% pure Bonita Fish flakes are a healthy, high-protein taste treat that will have your cats begging for more! The sun-dried dehydrated fish flakes are very light, so each 1 ounce pouch is packed full of long-lasting, irresistible treats. Flint River Ranch Bonita cat treats are not only thoroughly enjoyable to your cat, they're also beneficial for good feline health.
The treats can be used to help establish socialization, to assist with personal bonding, or just to reward your kitty for good behavior. Feed just a pinch or add as a healthy addition to one of our premium cat food Flint River Ranch formulas. The bonita fish flakes cat treats contain no preservatives and no artificial additives.
Refrigeration is not required for the flakes, but is recommended after opening for extended freshness.
Shipping Note: Flint River Ranch Bonita Flakes are shipped via the U.S. Postal Service from our Atlanta, Georgia distribution facility when ordered in quantities of less than (7) 1 oz. bags. These shipments can take five to nine business days to arrive. Orders of 8 or more Bonita Flakes cat treat bags are shipped via UPS and include tracking information with scheduled dates of delivery. The UPS shipments generally take one to four business days to arrive.