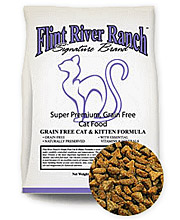 Flint River Ranch Grain-Free Cat Food Formula
Flint River Ranch's new Grain-Free Cat Food formula is a chicken and white fish formula for cats that provides your adult cat or kitten with optimal nutrition for sustained health, a strong immune system, proper muscle development and maintenance, healthy skin and a gleaming coat.
Our first cat food formula to contain absolutely no grains, the
Flint River Ranch Grain-Free Cat Food
formula is also a low carbohydrate formula that will keep your beautiful cat fit and trim — plus cats absolutely love the taste!
The No-Grain cat food formula includes added natural essential proteins, vitamin and minerals to help ensure your kittens grow up healthy, happy and strong, and offers the ideal balance of nutrition to help them maintain their good health into their adult and senior years. Because it's grain free and highly concentrated, you'll find that you need to feed less of the no-grain formula in order to help maintain your cat's ideal weight.
The Flint River Ranch Grain-Free Cat Food formula is a balanced, complete food that's ideally formulated for cats of all breeds and life stages. Our no-grain cat food formula:
Is highly concentrated and extremely digestible (less in also means less out!)
Is formulated to help your cat maintain a healthy, shiny coat with less shedding
Features Yucca Schidigera to help minimize litter box and breath odor
Includes Tomato Pomace and Chicory Root to aid in digestion
Includes Cranberries to help maintain your cat's proper urinary tract pH levels
The
Flint River Ranch
line of premium no-grain cat foods is truly and completely
free of additives, coatings, artificial colors, artificial flavors
and other things you should never see in a pet food you give your loved ones.
The protein source and amino acids provided by the high-quality chicken meal and white fish meal — both of which are guaranteed free of animal by-products — are the basic building blocks of your cat's muscle, skin, coat, bone, blood and immune system. The high quality chicken meal provides taurine, an essential amino acid for cats, in much higher levels than poultry by-products, which are typically found in most other cat foods. Taurine is an important element for eye, heart, nervous and reproductive system health.
Additionally, the low ash and magnesium content, pH-controlling acidifiers, and cranberries in the premium grain-free cat and kitten food formula help promote optimal pH balance, key in the prevention and management of urinary tract infections and F.U.S. (Feline Urinary Syndrome).
We're such strong believers in Flint River Ranch premium pet foods that we encourage you to give your best friend(s) the Flint River Ranch Taste Test — let your cats show you which food they prefer, and then take comfort in knowing you'll be feeding them the absolute best in nutrition and taste and, through A+ Flint River Ranch, at the best possible price.

The
Flint River Ranch No-Grain Cat Food
formula for kittens and cats has been
scientifically developed to promote the health and vitality for cats of all breeds, sizes and ages
, including the following breeds:
American Shorthair, Persian, Exotic, Siamese, Abyssinian, Birman, Maine Coon, Oriental, Ragdoll, Tonkinese, Russian Blue, American Bobtail, American Curl, American Wirehair, Balinese, Bengal, Bombay, British Shorthair, Burmese, Chartreux, Colorpoint Shorthair, Cornish Rex, Devon Rex, Egyptian Mau, European Burmese, Exotic, Havana Brown, Himalayan, Japanese Bobtail, Javanese, Korat, LaPerm, Manx, Ocicat, RagaMuffin, Scottish Fold, Selkirk Rex, Siberian, Singapura, Somali, Sphynx, Tonkinese, Turkish Angora, Turkish Van, mixed breeds, and many more
The Flint River Ranch Grain-Free Kitten and Adult Cat Food formula contains low ash and magnesium content, cranberries and pH-controlling acidifiers (DL-Methionine) needed for maintaining optimal pH to help prevent urinary tract disorders such as
F.U.S.
(Feline Urinary Syndrome) and
FLUTD
(Feline Lower Urinary Tract Disease).
Chicken Meal, Potatoes, Chicken, Chicken Fat (preserved with mixed
tocopherols
), Potato Protein, White Fish Meal, tomato pomace, natural flavor, chicory root, salt, whey, cranberries, potassium chloride, vitamins (choline chloride - a tocopherol acetate and source of vitamin E, niacin, vitamin A acetate, thiamine mononitrate - a source of vitamin B1, calcium pantothenate, pyridoxine hydrochloride - a source of vitamin B6, menadione sodium bisulfite complex, riboflavin supplement, ascorbic acid - a source of vitamin C, vitamin D3 supplement, vitamin B12 supplement, folic acid, biotin), minerals (zinc sulfate, zinc amino acid chelate, iron amino acid chelate, ferrous sulfate, copper sulfate, manganese amino acid chelate, copper amino acid chelate, manganous oxide, sodium selenite, calcium iodate), lecithin, taurine, calcium carbonate, parsley flakes, kelp meal,
DL-Methionine
, yucca schidigera extract, and inositol.
Because Flint River Ranch premium cat food formulas are nutrient-dense, you should
feed 20%-25% less than regular cat foods
. Each serving delivers
maximum nutrition without unnecessary fillers
, so you'll also notice a lower stool volume and less clean-up.
It's best to introduce Flint River Ranch Super Premium foods by mixing with your cat's current food and increasing the amount of Flint River Ranch over several days. It will take time for your cat to adjust to the rich, easy to digest, all natural quality. A sudden change in any food source may be a shock to your cat's digestive system. You may notice loose stool. If so, reduce the amount being fed until your cat adjusts.
Feed your cat once or twice a day unless the breed is prone to bloating or
excessive weight gain
(
obesity
), in which case we recommend feeding three smaller meals throughout the day. Food requirements vary depending on climate, breed of cat and exercise activity. Feed an amount that will maintain your cat's weight, and make sure to always have fresh water available.