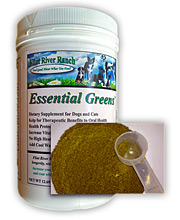 Flint River Ranch Essential Greens Pet Food Supplement
Flint River Ranch's new Essential Greens for pets is an all natural pet food supplement for dogs and cats formulated using the foundation of the Original Flint River Ranch Dry Water ingredients while also adding many more nutritional supplements and vitamins to make an amazing new supplement for your pet's health and vitality.
Essential Greens
can be used as a topping for your regular
Flint River Ranch
pet food formula or any other pet food that you'd like to use, and it can be served as a dry topping or with water added to make a gravy that your dog or cat is sure to find irresistible.
Flint River Ranch Essentials Greens
:
Helps improve your pet's skin and coat while reducing pet odor
Boosts your pet's immune system while potentially helping to reduce the effects of allergies
Features health-essential phytonutrients, berries and dehydrated vegetables
Aids in digestion and the beneficial cleaning of your pet's digestive system
Helps reduce tartar build up and freshens your pet's breath
Increases your dog or cat's energy levels and overall vitality
Can assist in easing the transition to new foods and pet food formulas
Tastes great, with chicken liver included for mouth-watering flavoring
Order Flint River Ranch Essential Greens Now
| | | |
| --- | --- | --- |
| FRR Code | Essential Greens | |
| GREENS | 12.69 oz. | |
Flint River's Essentials Greens supplement is made completely in the U.S.A. with only the highest quality ingredients, and Essential Greens are never high heat-processed in order to retain the formula's vital nutrients. Among Flint River Ranch Essential Greens many beneficial supplements and ingredients are:

Alfalfa Leaf: A legume and member of the pea family, a good source of many nutrients including protein, fiber, trace minerals and vitamins A, B1, B12, C, D, E, and K.
Atlantic Sea Kelp: Contains an abundant source of minerals, amino acids and vitamins, including essential trace minerals. These nutrients are necessary for the production of enzymes that promote healthy body functions. Kelp contains over 70 minerals and elements and 21 amino acids.
Barley Grass: Delivers natural enzymes, amino acids, chlorophyll and trace minerals.
Blue, Green Algae: Aids in digestion, is high in antioxidants and helps to detoxify the body.
Borage Seed Oil: Great source of Omega 6 fatty acids.
Burdock Root: A strong blood purifier and cleanser, burdock root has been used to neutralize and eliminate toxins in the system.
Chia Seed: High levels of antioxidants and Omegas. Helps to balance blood sugar and is a great source of Omega 3 Fatty Acids.
Chlorella: Seaweed that's high in Vitamins A & C, as well as Iron and calcium.
Diatomaceous Earth (Rare Earth Blend): A natural source of vitamins/minerals that helps to detoxify the body and control intestinal parasites.
Dried Berries (cranberry and blueberry): High in antioxidants.
Green Peas: High in Vitamin A, C and iron.
Green Tea Extract (source of EGTg): High in antioxidants to help boost the immune system. Also works to increase energy.
Inulin from Chicory Root: Prebiotic, aids in digestion and absorption of nutrients.
L-Carnatine: An important nutrient that acts as a transport for fatty acids, essential for the cellular production of energy. Deficiency of this nutrient can cause a variety of health problems for animals — most significantly, the association with heart disease (cardiomyopathy) in dogs. It helps to maintain a healthy weight as well.
Marine Algae: High in Vitamin C and antioxidants to help boost the immune system.
Zinc Supplement: Helps repair damaged tissues and heal wounds.
Pineapple Stem (source of Bromelain): Aids in digestion and contains high amounts of antioxidants.
Rice Bran: Very high in iron and a good source of fiber. Also contains zinc, copper, potassium, thiamin, niacin, Vitamin B6, magnesium, phosphorus, manganese and pantothenic acid.
Spirulina: High in antioxidants to help boost the immune system, detoxify the body and reduce stress.
Taurine: Essential amino acid for cats and non-essential (but still beneficial) for dogs. Helps to promote a healthy heart and eyes. Especially good for dogs with heart disease.
Wheat Grass: Contains vitamins A and C, protein, zinc and other vital nutrients in a concentrated form. It also contains chlorophyll, the green pigment found in most plants. Consumption of chlorophyll is proposed to have a number of health benefits, including strengthening the heart and lungs and detoxifying and purifying the body.