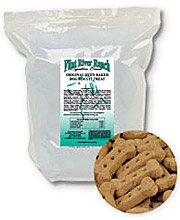 Oven-Baked Dog Bone Biscuits
All the quality that Flint River Ranch is famous for in a tasty, healthy bone-shaped biscuit treat!
Flint River Ranch's Oven-Baked Dog Biscuits
are great for training, snacking, or just because you love your dog!
The delicious, naturally-flavored dog treats are available in three convenient sizes. Our tasty treats contain no chemical preservatives, artificial colors, or flavors. And, like all Flint River Ranch products, there's no Meat By-Products, BHT, BHA, or Ethoxyquin – only the good stuff for your dogs, including essential vitamins and minerals for healthy and vitality.