We're excited to announce new additions to the Flint River Ranch dog treats lineup: Flint River Ranch Bacon Dog Cookies, Flint River Ranch "Peamutt Butter" Dog Cookies, and a Combo Pack of Both Cookie Treats!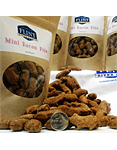 What could be better than hand made, hand decorated, all natural dog cookies made with real bacon and peanut butter!
The Flint River Ranch Peanut Butter Dog Cookie and Bacon Pig Dog Cookie treats are super tasty dog cookies made in the United States at Flint River Ranch headquarters. What dog doesn't love a dog cookie treat, and what dog doesn't love real peanut butter and bacon?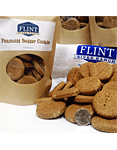 Each Flint River Ranch Dog Cookies order contains 4 bags of either the "Peamutt Butter" dog treats or the Bacon Pig dog treats (or 2 of each), and each of the four bags includes 35 cookies.
We hope your dogs love the new Flint River Ranch dog food formulas and treats — please let us know what they think of additions to the Flint River Ranch product line!
664 total views, no views today