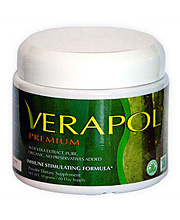 Verapol Premium Pure Aloe Vera
Verapol Premium is 100% organic, all natural Aloe vera grown in the fertile soils of Costa Rica and harvested in an exclusive, patented process that protects and preserves the therapeutic properties derived from the inner gel of the Aloe vera leaf.
Verapol Premium
is frequently used as a natural, immune-boosting remedy to help prevent and reduce the effects of colds, sinus infections and other illnesses. While
Verapol Premium
was developed for human consumption, our customers have reported positive results in sharing Verapol with their canine and feline companions (in lower doses than those recommended for human consumption).
Aloe vera and compounds extracted from Aloe vera plants have a long history of providing medicinal value to humans as well as dogs and cats, providing a natural antioxidant for overall health and also for serving as an immunostimulant in fighting cancers.
And since 1992 the US Department of Agriculture has approved Aloe vera for the treatment of soft tissue cancers in dogs and cats as well as for treating feline leukemia. The approval was based on studies that show Aloe vera appears to be beneficial to cancer patients by activating the white blood cells and promoting growth of non-cancerous cells.
Like our Flint River Ranch pet food products, Verapol Premium is completely all natural and has absolutely no fillers, additives or preservatives. Verapol Premium is packaged as a dry powder that can be added by itself as a topping to food or mixed in with some warm water and then added to the food.
Each bottle of Verapol Premium contains a
60-day supply
of the recommended serving amount for humans.
We're excited to be able to offer
Aloe Verapol
Premium to our customers and highly recommend it for its unmatched medicinal benefits. We also look forward to hearing what you think about this wonderful new product.
Shipping note:
Verapol Premium ships via
UPS SurePost
and is delivered by the U.S. Postal Service and may take up to 10 days to arrive.
Note: These statements have not been evaluated by the U.S. Food and Drug Administration (FDA). This product is not intended to diagnose, treat, cure or prevent any disease.