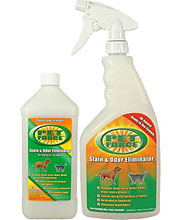 Pet Force Pet Stain Remover and Cleaner
Pet Force is a completely safe enzymatic, lemon fresh-scented cleaning product designed to remove particularly tricky odors and stains, especially from pet accidents.
Pet Force is a natural and biodegradable pet stain cleaner and remover that provides superior stain removal for urine, vomit, feces, cat spraying and marking, food, grease, blood, grass, juice, wine, coffee laundry and other types of stain problems. Pet Force is so strong it even works exceptionally well on skunk odors!
Pet Force works on all carpet types and also below the carpeting, getting into the padding and the sub-floor where the bacteria attack the waste that other products can't reach. In this way, Pet Force ensures complete and total removal of unseen odor spots that your pet would otherwise still be able to detect. Pet Force also prevents mold from occurring.
Pet Force's effectiveness is due to its high bacterial count (more than 65 billion living bacteria per quart) and the fact that the bacteria's primary function in life is to feed on — and then digest — organic matter. The Pet Force bacteria colony manufactures billions of enzymes that attack stains or odors and uses them as food sources, which in turn breaks down the stains and odors into carbon dioxide and water.
Potential uses for Pet Force include:
Any sort of organic stain in clothing, carpets, concrete and furniture
Add a half-cup to your load of laundry for a clean, fresh scent
Add 2 oz per gallon of water in carpet cleaning machines
Use on pets for skunk odors
Clean Litter Boxes
This Pet Force Combo Package features a 32 oz spray bottle of pre-mixed Pet Force as well as a 16 oz concentrated bottle of Pet Force for refills. Pet Force concentrate can be mixed with up to 8 parts water, so it is a great value too!
Please note that the Pet Force Combo Packages ship via UPS SurePost and are delivered by the United States Postal Service, and they may take up to 10 days to arrive.

Pet Force
is a concentrated solution (mix 8 parts water to 1 part cleaner) that will work on urine, cat spray, or other stains and odors — even those in hard to reach areas. You can mix the concentrated solution with water in a spray bottle and apply liberally to the problem area or areas. Pet Force can also be sprayed in barns and stalls to control odor.
How It Works
Pet Force contains billions of powerful, friendly bacillus bacteria in a spore form specifically cultivated to attack pet residue like urine, vomit and feces, and break it down at the molecular level, quickly neutralizing the acids and eliminating the odors. These aggressive bacteria manufacture billions of enzymes to help break down the waste and they continue to feed and multiply until the job is done and there is no more waste. The result is a fast, completely natural and highly effective process for eliminating odors and removing stains.
Bacteria flourish when they have three things — an organic food source, water and oxygen. They will continue to attack the stain or odor as long as these three elements are present. When one element vanishes, the bacteria will evaporate into the air.
The bacillus bacteria will not cause any type of disease and are safe for all pets, carpets, upholstery, laundry, mattress, rugs, pet bedding, linoleum, wood, kennels, dog runs, horse stalls and trailers. Pet Force can also be used on automotive stains, drains, garbage disposals and even topically on pets to remove foul smells such as skunk odors.

100% Safe, Natural, and Organic - Guaranteed The Professional Solution for Pet Owners, Groomers,
Veterinarians, Kennels, Hospitals, & Carpet Cleaners

Mix the concentrated PetForce solution with water in a spray bottle and apply liberally to the problem area or areas. Only mix the amount you will use in a 2-3 day period. Apply as listed below based on the directions on the bottle as well as the type of use.
In Small Areas: Before using, test for color fastness on a hidden area of carpeting. Apply Pet Force directly to the stain or odor area, adding enough warm water to moisten the area (mix with water at a rate of up to 8 parts water to 1 part Pet Force). Agitate the area to speed up the process. Next, place a damp paper towel or cloth over the area and let it set for 1-2 hours.
In Large Areas: Saturate problem area with Pet Force and then add up to 8 times as much warm water. Please a damp towel over the area and let it set overnight.
In Carpet Cleaners: Mix 2 oz. per gallon of water or spray directly on carpet after cleaning.
In Laundry: Apply Pet Force to spot(s) on clothing, let soak overnight, and then wash clothing. Also works on blankets, slipcovers, doggy beds, etc.
For Blood Stains: Apply Pet Force to area and add water. Place a damp towel on area. Let set overnight and the stain should be gone in the morning. If not, blot with towel.
For Bad Odors or Old Stains: Follow the standard directions, but double the dosage of Pet Force.
For Skunk Odors: Mix Pet Force at a 1 to 1 ratio and wash pet. Will work best when allowed to set for 30 minutes. Rinse pet, and then as a precaution, wash your dog or cat with a disinfectant soap.