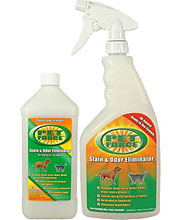 Pet Force Pet Stain Remover and Cleaner
Pet Force is a completely safe enzymatic, lemon fresh-scented cleaning product designed to remove particularly tricky odors and stains, especially from pet accidents.
Pet Force is a natural and biodegradable pet stain cleaner and remover that provides superior stain removal for urine, vomit, feces, cat spraying and marking, food, grease, blood, grass, juice, wine, coffee laundry and other types of stain problems. Pet Force is so strong it even works exceptionally well on skunk odors!
Pet Force works on all carpet types and also below the carpeting, getting into the padding and the sub-floor where the bacteria attack the waste that other products can't reach. In this way, Pet Force ensures complete and total removal of unseen odor spots that your pet would otherwise still be able to detect. Pet Force also prevents mold from occurring.
Pet Force's effectiveness is due to its high bacterial count (more than 65 billion living bacteria per quart) and the fact that the bacteria's primary function in life is to feed on — and then digest — organic matter. The Pet Force bacteria colony manufactures billions of enzymes that attack stains or odors and uses them as food sources, which in turn breaks down the stains and odors into carbon dioxide and water.
Order Pet Force Pet Cleaner Now
| | | |
| --- | --- | --- |
| FRR Code | Pet Force | |
| PFCOM | Combo Pack | |
Potential uses for Pet Force include:
Any sort of organic stain in clothing, carpets, concrete and furniture
Add a half-cup to your load of laundry for a clean, fresh scent
Add 2 oz per gallon of water in carpet cleaning machines
Use on pets for skunk odors
Clean Litter Boxes
This Pet Force Combo Package features a 32 oz spray bottle of pre-mixed Pet Force as well as a 16 oz concentrated bottle of Pet Force for refills. Pet Force concentrate can be mixed with up to 8 parts water, so it is a great value too!
Please note that the Pet Force Combo Packages ship via UPS SurePost and are delivered by the United States Postal Service, and they may take up to 10 days to arrive.