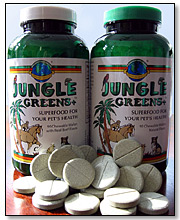 Jungle Greens+ Superfood Pet Treats
Jungle Greens
by GREENS+ are 100% natural, low calorie chewable wafers that combine cold-processed green superfoods like barley, wheat, and alfalfa grass with organic brown rice, soy sprouts, and full color vegetable powders.
Scientifically developed to supplement a healthy pet food diet like that of Flint River Ranch for your dogs and cats, Jungle Greens+ superfood treats provide pets with essential organic vitamins, minerals, antioxidants, enzymes, dietary fiber, fat-free protein, and chlorophyll, while additional ingredients like soy lecithin, Hawaiian spirulina, and dairy-free probiotic cultures help to ensure healthy digestive, immune, and nervous systems.
Jungle Greens+ Real Beef Flavor wafers make ideal nutritional and tasty "health treats" for all pets and even prized livestock, including cats, dogs, birds, horses, cows, and more.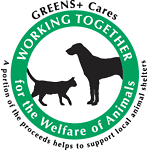 Unlike our premium line of all-natural, oven-baked pet foods from Flint River Ranch, most commercial pet foods are unfortunately made with low-quality grains and meat by-products, and are subjected to high temperatures that destroy pathogenic organisms AND essential nutrients — to the point that these highly processed foods require the addition of synthetic vitamins and minerals in order to be labeled "complete and balanced."

Furthermore, these commercial pet foods often contain a wide range of toxins from diseased animals, refined sugars, salt, colorings, flavorings, and preservatives. This chemical cocktail is a major factor in producing degenerative disease leading to the early death and suffering we see in pet animals, including cancer, arthritis, and a range of allergies and auto-immune symptoms.

As a result, many knowledgeable veterinarians now consider commercial pet foods by themselves to be inadequate for healthy pets and recommend food that more closely resembles an evolutionary, biologically complex diet. To meet the need – and demand – for a more complete, complex diet for pets, we now offer the ideal combination of a diet that consists of premium all-natural, oven-baked pet food from Flint River Ranch complemented by Orange Peel Enterprises' scientifically engineered Jungle Greens+ superfood supplement. Together, these products deliver all-natural, always-fresh taste delights for your pets that are formulated with the highest quality human-grade ingredients to ensure your animal companions live long, healthy, disease-free and pain-free lives.
| | | |
| --- | --- | --- |
| | | Real Beef Flavor Ingredients: Soy Lecithin, Barley Grass Powder, Wheat Grass Powder, Sprouted Barley Malt, Brown Rice Bran, Beef Liver Powder, Alfalfa Grass Powder, Hawaiian Spirulina, hydrophonic soy sprouts, Japanese chlorella, dairy-free probiotics, red beet juice powder, broccoli powder, carrot powder, celery powder, parsley powder, natural Vitamin E, gum acacia, dicalcium phosphate, and silicon dioxide. |