Flint River Ranch All Natural Pet Foods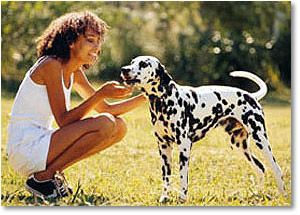 A Whole Dog Journal Healthy Favorite

Each year the editors at the
Whole Dog Journal
evaluate the wide selection of pet foods available to consumers and select only the healthiest, 100% natural wellness pet food diets to name as
WDJ Approved Dog Foods
.
Flint River Ranch is proud to be recognized by the Whole Dog Journal as one of the best top healthy dog food brands for the sixth straight year and to share the same high standards concerning the nutritional health of companion pets.
Whole Dog Journal's Selection Criteria
To be considered a WDJ Approved Dog Food, a formula must:
Contain a significant percentage of high-quality animal proteins
Only use whole grains and vegetables
and MAY NOT contain ANY:
Fat or protein not identified by species
Added sweeteners
Flint River Ranch for Wellness and Vitality
There are corners that can be cut and standards that can be compromised at each and every step in the pet food formulation process, and many commercial pet food brands are all too often willing to sacrifice quality in order to cut costs. You can see it in the animal by-products so often found in pet foods, the artificial preservatives pumped into pet foods so the foods can remain on store shelves longer, the cruel and abusive lab testing conducted on animals for the sake of creating cheaper foods, and the sub-animal grade ingredients cleverly disguised in the pet food ingredients labels.
In formulating each batch of its premium healthy pet foods, Flint River Ranch has made a commitment to using only the finest wholesome and organic ingredients and the highest quality, human-grade protein sources for the optimal health and vitality of your animal companions. And because we bypass the multi-million-dollar advertising and marketing budgets of the larger pet food companies, we're able to pass these savings on to our customers and deliver our ultra premium healthy pet foods at a cost that is less expensive to feed than competing pet food brands.
A+ Flint River Ranch is proud to offer the healthiest pet foods available and are confident you will see a dramatic improvement in your dog or cat's overall health and appearance when fed Flint River Ranch foods. We're so confident in fact that we offer an unconditional 100% Total Satisfaction Money Back Guarantee. If you're less than completely satisfied with any Flint River Ranch pet food, treat or product, you can return the unused portion for a complete refund.
If you're still not convinced our top ranked and top reviewed
Flint River Ranch
foods are the healthiest
all natural pet foods
on the market, we'd like to recommend:
Better Ingredients. Better Pet Food. Flint River Ranch.