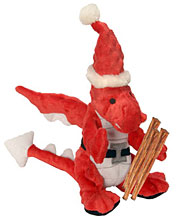 Santa Dragon & Bully Stick Combo Gift Pack for Dogs
Please Note: Supplies of our Santa Dragon Combo Gift Packs are limited, so please get your orders in early.

Give your pup a holiday gift he or she will absolutely love! Our new Flint River Ranch Santa Dragon Bully Stick Gift Pack for dogs features a large Santa Dragon plush toy and (3) 6" bully sticks.
The Santa Dragon has got to be the cutest holiday toy we have seen at Flint River Ranch in a very long time! The Santa Dragon measures 14" x 5" x 13" and is perfect for any size dog. There is very little stuffing inside, so if your dog is able to get through the reinforced seams, you will not have a huge mess to clean up.
The Santa Dragon plush toy also features Chew Guard® Technology, which is specially constructed to better resist moderate chewing. While no plush toy is indestructible and Chew Guard technology won't stop dogs that will chew through anything (including your refrigerator door), it will help your plush toys stand up to a great deal more chewing abuse than typical plush toys.
In addition to the Santa Dragon, the combo pack also features our super popular Bully Sticks. Your four-legged family members will absolutely love bully sticks, and this combo pack comes with three 6" bullies for even more fun!
Shipping Note: Our Holiday Dog Gift Combo Pack ships via UPS SurePost and will be delivered by the United States Postal Service, and the packs may take up to 10 days to arrive.