FAQs: Flint River Ranch Wellness Pet Foods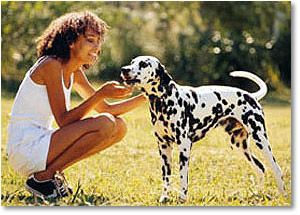 This section of frequently asked questions addresses common questions about Flint River Ranch wellness pet foods, as well as what to watch out for in the commercial pet food brand industry. We hope the answers will help you learn more about FRR foods and the health advantages of choosing
Flint River Ranch
ultra premium health foods for your pets.
If you have any questions that aren't listed below, please don't hesitate to
send them to us
. We welcome your feedback and would love to help with any pet-related questions you may have.

Why can't I find Flint River Ranch pet foods in stores?
Flint River Ranch foods aren't sold in retail stores for two key reasons – freshness and price.

Unlike many commercial pet food brands, Flint River Ranch pet foods and treats are never "warehoused" or left for weeks (or months) to sit on store shelves — they are delivered to our distribution centers and prepped for shipping within two days of manufacture. This guarantees that the freshest and healthiest possible product arrives at your door in the shortest period of time.

The second reason you won't find Flint River Ranch on store shelves is price. Flint River Ranch runs a streamlined operation focused on delivering the freshest, highest-quality food as quickly as possible to its customers at the most competitive prices.

Unlike the pet industry goliaths, Flint River Ranch doesn't spend a fortune on marketing and advertising, allowing us to use more expensive but higher quality ingredients without having to charge our customers more.

Additionally, mass marketing requires expensive national advertising and marketing; companies like Iams and Eukanuba spend hundreds of millions of dollars on advertising each year. By working with independent distributors to market Flint River Ranch foods and products, Flint River Ranch is able to pass considerable savings on to its customers while offering a much higher quality product than the competition at a very affordable price.

Are Flint River Ranch foods more expensive than commercial pet foods?
Absolutely not! Because Flint River Ranch premium pet foods are nutrient-dense with no
wasted fillers
, your pets need to be fed 20%-25% less than comparable pet foods in order to maintain their ideal weight. This results in Flint River foods being less expensive to feed than competing pet food brands that initially appear to cost less.
Flint River Ranch also continually strives to streamline operational, manufacturing, packaging, shipping and administrative costs in order to further reduce Flint River Ranch food prices while always ensuring that the highest quality ingredients possible are used. That means you won't be spending your money on non-digestible, unhealthy (but inexpensive) fillers such as corncobs, peanut hulls, cereal by-products, and sawdust.
And you most certainly won't be spending money on a pet food that uses road kill, diseased slaughterhouse animals, or similar
animal by-products
. Instead, Flint River Ranch 'invests' only in human-grade, fresh meat sources such as organic chicken and range-fed lamb.
Flint River Ranch customers see cost-savings in other areas as well. By shipping your Flint River Ranch food for FREE directly to your door via UPS, you'll never need to waste time and gas running to the store to buy your dog or cat food, and with higher quality ingredients, you should benefit from fewer and less expensive veterinary visits for your animal companions.
In short, you won't find a higher quality pet food at a more affordable price than Flint River Ranch healthy pet foods.

What is the A+ Flint River Ranch Referral Discount?

Our exclusive new Referral Discount rewards current A+ Flint River Ranch customers for helping to spread the word about the healthy benefits of Flint River Ranch pet foods and products to new customers.

When a new customer makes their first purchase at A+ Flint River Ranch and fills in your name as their referral in the "Referred by customer:" box, you will automatically save 10% on your next order!

Is there a Flint River Ranch distributor near me?
Flint River Ranch is committed to delivering the highest quality, freshest possible wellness pet foods to its customers at the lowest possible prices, which is why our foods can only be purchased online, over the phone, by fax, or by mail order.

Flint River Ranch premium pet foods and treats are automatically shipped from the Flint River Ranch warehouse nearest you, so there's no need to search for a local distributor — your orders will ship from the same location regardless of which distributor you use.

What if I find Flint River Ranch cheaper elsewhere?
A+ Flint River Ranch continually strives to offer the lowest possible prices on Flint River Ranch foods and products. And with our new Low Price Guarantee, if you find a lower price listed elsewhere, we'll match that price plus give you 20% of the difference.

When comparing prices on Flint River Ranch premium pet foods, it's important to take into account shipping and sales tax. Both of these items are already included in A+ Flint River Ranch's prices, whereas the official Flint River Ranch site and many other FRR distributors add sales tax to their listed prices before the order is completed. Once the sales tax and shipping factors are added in, you'll find our listed prices are almost always lower than those of other sites and distributors.

Why is oven baking so beneficial for premium pet foods?
The secret to good pet food nutrition is not just in the quantity of nutrients present in a food, but also in how available they are and how efficiently they can be utilized when digested. Flint River Ranch dog and cat food formulas utilize a "tried and true" oven baking process that is geared towards baking and producing a higher quality all natural product. In short, the wholesome, healthy value of Flint River Ranch is baked-in to the food.

Most commercial pet food brands, on the other hand, use a steam extrusion method designed for fast replication and inexpensive mass production of commercial pet food products. These manufacturers also typically spray their pet foods with a combination of liver, fats and sugar to encourage the pet to eat the food. These artificial additives and flavor enhancers add little more than a greasy feel and texture to the food and an artificial taste sensation for your pets that's generally lacking in terms of nutrients and efficient digestibility.

You can pick up a handful of Flint River Ranch ultra premium oven baked pet food and breathe in the full, rich aroma. And when you run it between your fingers there's no greasy film left on your hands or unsavory smell of grease and oils. This is because Flint River Ranch formulas have natural value that is slowly baked-in rather than sprayed on.

Where does Flint River Ranch stand on grain-free diets vs. pet food with grains?

Is a limited-grain, gluten-free or grain-free diet for dogs or cats better than one that contains some grains? It's not a simple yes or no answer, as there is no single type of pet food diet that is best for every dog and cat in the world. All pets have different metabolism and nutritional needs, and results will vary depending on the pet's individual metabolism and the nutrition that is presented.

Flint River Ranch has always advocated adjusting your pet's diet to meet their nutritional needs, which means some pets may do well on a grain-free pet food diet while others will find success with formulas that have healthy grains or a unique carbohydrate mix.

How are Flint River Ranch foods packaged and delivered to me?
Convenience is paramount at Flint River Ranch, which is why Flint River Ranch wellness pet foods and products are packaged in easy-to-manage bags that never weigh more than 20 pounds. If you place an order for a Flint River Ranch food in excess of 20 pounds, you'll receive multiple 20 pound (or smaller) bags. For example, if you purchase 40 pounds of our premium
Lamb and Rice dog food
, it will be delivered to you in the form of two 20 pound bags.
Flint River Ranch packages its foods in this manner to enable easy storage and feeding of our pet formulas, while still making it possible to order large quantities at lower prices without the need to carry heavy bags to and from a pet store.
Flint River Ranch packs each shipment securely in a heavy-duty corrugated shipping box and delivers the foods to you via UPS, with shipping costs and taxes already included in the listed prices. Order processing takes no more than 48 hours, and shipping times average 3-5 business days.

What is the shelf life for Flint River Ranch pet foods?
When stored out of direct heat, Flint River Ranch foods have a guaranteed "
fresh
" period of at least five months — with the ability to safely feed for 11 months. Of course, if your pet does not consume all of its Flint River food supply within that period of time, the food can be frozen to preserve freshness.
Flint River Ranch uses
tocopherols
, natural antioxidants and Vitamin E sources, and human-quality ingredients to slow the oxidation process of fats and oils to ensure its premium pet foods remain fresh as in their initial state.
Tocopherols work as a natural preservative for a period of up to 12 months and as a peak preservative up to 6 months. Tocopherols used as preservatives in pet foods do have a shorter lifespan than chemical preservatives, which can be a concern with some pet food brands that are warehoused or shipped to retail stores and left on store shelves for extended periods of time.
Unlike these retail pet foods, Flint River Ranch pet foods and treats are baked in small batches and are never "warehoused" or left for weeks (or months) to sit on pet store shelves — they are delivered and prepped for shipping within two days of manufacture. Including manufacturing and shipping time, Flint River Ranch pet foods and treats are guaranteed to be in the hands of the pet owner within 1 month, which provides at least five months of guaranteed fresh pet food.

How should I store Flint River Ranch foods?
Flint River Ranch recommends storing FRR foods in their original bags in sealed containers. This will help ensure that no old food remains in the bottom when you add new, fresh food to the container. Flint River Ranch's natural preservatives can break down more quickly when exposed to excessive heat or moisture, so it's best to keep the food in a cool, dry place. For example, placing the food directly on a damp basement floor or in an excessively hot garage is not recommended.

How much Flint River Ranch should I feed my pet(s)?
In general, you should feed your dog or cat 20%-25% less than comparable pet foods in order to ensure they maintain their ideal weight. Each Flint River serving delivers maximum nutrition without
unnecessary fillers
, so you'll also notice a lower stool volume and less clean-up.
Each bag of Flint River Ranch dog food or cat food lists the recommended amounts for feeding your pets. Food requirements can vary depending on climate, breed of pet and level of activity, so it's important to monitor your dog or cat's weight and increase or decrease the amount you feed them accordingly.
Feed your dog or cat once or twice a day unless the breed is prone to bloating or
excessive weight gain
(
obesity
), in which case we recommend feeding three smaller meals throughout the day.
When switching over to a Flint River Ranch food for the first time, it's best to introduce the new food by mixing it with your dog or cat's current food and slowly increasing the amount of Flint River Ranch over several days. It will take time for your dog or cat to adjust to the rich, easy to digest, all natural quality. A sudden change in any food source may be a shock to your dog's digestive system. You may notice loose stool. If so, reduce the amount being fed until your dog adjusts.
And last but not least, make sure to always have fresh water available for your dog or cat.

Why is corn used in FRR cat food formulas but not the dog food formulas?
Corn is a whole grain frequently found in cat food formulas. The feline digestive system can better utilize corn, and corn also delivers important dietary benefits to cats and kittens, which is why it is one of the primary ingredients in Flint River Ranch cat food formulas.

Corn is, however, more difficult to digest by dogs (as well as humans) and can cause allergic reactions in some dogs. In dog foods, corn (or corn meal) simply serves as a low-cost filler, albeit one that many manufacturers continue to use in order to save money. Corn passes right through a dog, providing little to no nutritional value. If a dog food lists corn as the first or second ingredient on its label, the customer can expect to pay for up to 25% filler in that food. Flint River Ranch does not use corn or corn byproducts as ingredients in its dog food formulas.

What if my pet doesn't like Flint River Ranch?
Nearly all dogs and cats find Flint River Ranch foods to be completely irresistible taste delights, even preferring their FRR foods over treats! Still, while extremely rare, some pets are not receptive to certain Flint River Ranch foods. As an example, some dogs may have allergic reactions to the wheat and chicken ingredients in our
original dog food
formula (we do have several
chicken and wheat-free
alternatives available). Flint River Ranch offers a variety of flavors and formulas for both dogs and cats to suit every breed, age, personality and taste preference.
A+ Flint River Ranch also offers a 30-day
100% Total Satisfaction Guarantee
, so if you or your pet is less than completely satisfied with one of our foods or treats for any reason, we'll provide a full refund (less return shipping and handling charges).
We also guarantee that after feeding your pet Flint River Ranch for 30 days, your pet(s) will show more enthusiasm for eating, have a higher energy level, sport a glossier coat and softer hair, enjoy a reduction in "hot spots" and itching from dry skin and other skin allergies, and produce decreased stool volume with less clean-up.
If you're looking for additional information on
Flint River Ranch
pet foods and products, we'd like to recommend:

Flint River Ranch Top 10
- The Top 10 reasons you should make the switch to Flint River Ranch Premium Pet Foods

Feed The Best for Less
- Why Flint River Ranch is cheaper to use than competing pet foods

Pet Food Brand Comparison
- Learn how Flint River Ranch foods stack up against competing pet food brands

Shop A+ Flint River Ranch
- Purchase Flint River Ranch premium pet foods, treats, and products online at the best prices
Better Ingredients. Better Pet Food. Flint River Ranch.