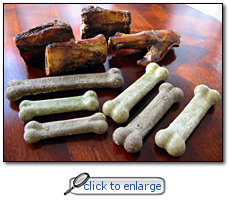 Flint River Ranch Dog Bone Variety Pack
Looking for the perfect gift for your best buddy? Make sure you remember to reward your dog with one of our new
Dog Bone Variety Packs
— they're an excellent value and will have your dog wagging his tail in appreciation and eager anticipation.
Our 5 lb. Regular Dog Value Pack is designed for medium-sized dogs and features 4 Hickory Smoked Natural Dog Bone Chews, 3 Regular Size Nylabones, 2 Wolf Size Nylabones, and 1 Giant Size Nylabone. Best of all, you'll save 18% when purchasing our Regular Dog Variety Pack vs. purchasing the dog bones and nylabones individually!
We also have a variety pack available for large and giant breed dogs as well as a value pack for small dogs.
The Flint River Ranch Premium Dog Bone Chews included in our doggie variety packs are safe, healthy treats for your dogs. The all natural, hickory smoked bone chews are processed in USA/USDA plants and are individually wrapped. The large dog variety packs feature large beef femur bones, while our medium and small value packs include a mix of lamb trotter, beef femur, and beef knuckle bones.
The Nylabones in our dog value packs are safe, non-toxic, edible dog chews that will provide your pet with many hours of non-stop chewing enjoyment while greatly reducing tartar and plaque build-up, all in a safe and healthy way! Plus, your dogs will find the baked-in smell irresistible. Satisfy the chewing urge naturally!
The Nylabones in our variety packs come in three sizes – Regular (4.5 inch), Wolf (5.5 inch) and Giant (7.75 inch) – and an assortment of natural flavors made with real carrots, peanuts, bacon, rawhide, spearmint and fruits! All the Nylabones are made from 100% natural ingredients!
Flint River Ranch has discontinued these items
but we do have these alternatives available:

Our
Regular Dog Value Pack
is a 5 pound assortment of dog bone chews and nylabones created specifically for medium-sized dogs. You'll save nearly 20% when purchasing our
Medium Dog Variety Pack
vs. purchasing the dog bones and nylabones individually!
The Regular Dog Bone Variety Pack features:
(4) Four hickory smoked natural dog bone chews
(3) Three Regular size (4.5 inch) Nylabones
(2) Two Wolf size (5.5 inch) Nylabones
(1) One Giant size (7.75 inch) Nylabone